PIGEON FORGE, Tenn. (July 18, 2014) – Expect to see hundreds of hyper-competitive, fun-loving girls in Pigeon Forge for the next week.
 The reason is the 2014 World Series of the Sporting Events Association of America (SEAA) that has attracted 108 teams from 16 states. Teams are from the Southeast, the Mid-Atlantic and the Midwest, including some from as far away at Texas and Wisconsin.
All games are at Pigeon Forge's Wear Farm City Park. The opening ceremony is Sunday (July 20) at Smokies Park in Kodak and will include a parade of teams.  Tournament play concludes July 27.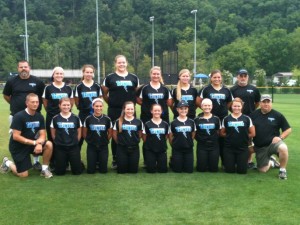 Mullins said that while competition is the first reason that teams participate, the area's vacation appeal is a major contributor to the tournament's success."We have grown steadily from our first year, when we had 20 teams, to having 108 teams this year. It's a major undertaking," said Freddie Mullins, co-owner of SEAA with her husband, Jim.
"Most people make this a family vacation. The tournament has an organized event at Dixie Stampede, teams go to Dollywood on their own schedules and people scatter to enjoy all of the things do see and do here," Mullins said.
Wear Farm City Park opened in March 2013, utilizing 40 acres for five lighted softball/baseball fields, a lighted football field, a playground, two shelters, a basketball court, two concession stand/restroom buildings and walking trails.
Teams in the SEAA tournaments are guaranteed four games.
"We set schedules so teams can enjoy the games and have time to enjoy Pigeon Forge and the Great Smoky Mountains, too," Mullins said.
Pigeon Forge Executive Director of Tourism Leon Downey noted that sports tourism is a growing segment of the travel industry.
"Youth sports are big, and tournaments such as the SEAA World Series have a huge impact. Pigeon Forge's family appeal and youth sports really go together well," Downey said.
#
Contacts:
For SEAA
Freddie Mullins
865-603-3405
For Pigeon Forge
Tom Adkinson
615-341-8796