PIGEON FORGE, Tenn. (Sept. 19, 2014) – The Blackwoods Morning Variety Show will present an 80th Anniversary Tribute to the original Blackwood Brothers Quartet, the week of Sept. 23-28 at the Smoky Mountain Opry in Pigeon Forge, Tenn.
The quartet began its career in Choctaw Co., Miss., in 1934. The original members were Roy, Doyle, James, and Roy's son, R.W. Blackwood Sr. They recorded more than 200 albums and sold more than 50 million records.  They won eight Grammy Awards and four Dove Awards and were inducted into the Grammy Hall of Fame, the Gospel Music Association (GMA) Hall of Fame, the Southern Gospel Music Association (SGMA) Museum and Hall of Fame and the Rockabilly Hall of Fame.
In 1954, R.W. Blackwood Sr., Bill Lyles and Johnny Ogburn died in a plane crash.  R.W. Blackwood Jr., the son of R.W. Blackwood Sr., and his wife, Donna, continue to carry on the legacy of the Blackwoods.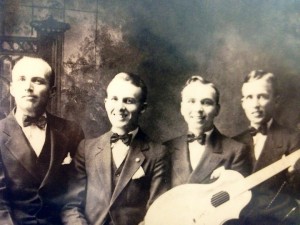 Each day of the Blackwood's Anniversary Tribute Week will feature different guest stars.  Billy Dean will appear on Wednesday, Sept. 24, along with members of his band, Steel Horses.
Dean is an American country music singer and songwriter who is a Grammy Award Winner with 11 Top 10 singles on the Billboard country charts, including five at number one.  Donna and R.W. Blackwood's son, Robbie Blackwood, plays drums for Dean and will be in the show. Robbie Blackwood has performed in Branson, Mo., for over 20 years.
Other special guests for the week include Willie Wynn and Sue Dodge on Tuesday, Sept. 23; Charles Yates and Ann Downing on Thursday, Sept. 25; Jeff Stice, "Mr. Music Man" on Friday, Sept. 26; Kenna Turner West on Saturday Sept. 27; and Tony Gore, on Sunday, Sept. 28.
Special guest for the entire week will be Terry Blackwood (son of Doyle Blackwood, original co-founder of the Blackwood Brothers Quartet).
"R.W. and I and our group, The Blackwood Singers, are so excited to have everyone come join us as we celebrate the 80th anniversary of the original Blackwood Brother's Quartet," said Donna Blackwood.  "We want to share this special anniversary with all of our fans and family by presenting a different show every day of the week.  We are thrilled to have other gospel music legends join us."
R.W. Blackwood said, "You will hear the songs the Blackwood Brothers made famous and share mornings of great music. We are especially happy that Billy Dean and our son, Robbie, will be joining us for a day. Dean was Grammy Award nominee for best male performance in 1992; he won a Grammy Award (with others) for best country gospel album in 1996. Check out our special daily and weekly ticket prices and you all come join us!"
R.W. and Donna Blackwood have been performing with the Fee/Hedrick Family Entertainment Group since 2003 and in Pigeon Forge since 2001. They have entertained hundreds of thousands of fans with their gospel show.
Although most people associate the Blackwood name with outstanding gospel music, they have an award-winning country music background as well.  The dynamic Blackwoods Morning Variety Show is a mixture of country, pop, patriotic and gospel harmonious sounds that showcase the talents of Jonathan Lee Kunkle, Brad Smith and the newest members of the group, Tana Lonon Rogers and Brian Norris, in addition to the Blackwoods.
"Our production has a selection of country favorite songs sung as a tribute to the country stars that R.W. and I have worked with," said Donna Blackwood. "In addition, the show has some Blackwood audience favorites that Blackwood fans expect to hear every show such as 'Boondocks,' 'Turn Your Radio On,' 'Sunday Afternoon Boatride' and 'Still Feelin' Fine.'"
They invite audiences to take a trip down memory lane to when the Blackwood Singers had songs on the charts.  R.W. Blackwood said,  "We have had six country hits in the top 100 Billboard and Cashbox Magazine Music Charts. We are performing some of our more popular country hits and yet not forgetting our gospel roots.
The Blackwoods Morning Variety Show is open six days a week at 10 a.m. (preshow starts at 9:30 a.m.) at the Smoky Mountain Opry Theater (closed Monday). Adult tickets are normally $29.95, plus tax. Children 11 and under are $9.95, plus tax.  The theater is running a special for the Anniversary Show week for $14.95 plus tax per ticket or $49.95 plus tax for a ticket that is good for all six shows all week long.
Tickets are available by calling 865-428-SHOW (7469). Groups of 20 or more qualify for group rates, available by calling 1-866-492-6972. The Smoky Mountain Opry Theater is at 2046 Parkway in Pigeon Forge. For more information about the show, visit http://www.smokymtnopry.com/shows/blackwoods-morning-variety-show  or call 1-800-768-1170.
The show is part of the Fee/Hedrick Family Entertainment Group that includes "The Comedy Barn;"  "The Smoky Mountain Opry;" "The Hatfield and McCoy Dinner Show;" Happy Days Diner; Chef's Catering and www.SeePigeonForge.com.
#
Contact:
Deborah Fee Newsom
865-414-6887 (cell), (865) 774-8877