PIGEON FORGE, Tenn. (November 2014) – Construction is underway on the Ripken Experience Pigeon Forge, a $22.5 million youth baseball complex, after Cal Ripken Jr. and Pigeon Forge Mayor David Wear dug trenches with backhoes to launch the project.
Ripken, a member of the Baseball Hall of Fame, represented his company, Ripken Baseball, at the groundbreaking event.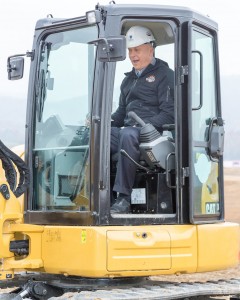 The city-owned complex has six fields and is designed as a tournament destination for elite youth baseball. Pigeon Forge has a 10-year contract with Ripken Baseball to market and manage the facility, which will host world-class youth baseball tournaments nine months of the year and offer year-round branded programming, including events.
Each field borrows its design from well-known professional ballparks, including Oriole Park at Camden Yards in Baltimore.
The others are Calfee Park in Pulaski, Va., the oldest park in the Appalachian League; Fluor Field in Greenville, S.C., known as "Little Fenway"; Engle Stadium in Chattanooga, Tenn., a filming location for the "42" movie about Jackie Robinson; BB&T Ballpark in Winston-Salem, N.C.; and Isotopes Park in Albuquerque, N.M.
"Pigeon Forge is an excellent location for our new facility, and soon, this ground will be home to thousands of young ballplayers running, playing and competing. We all look forward to that day," Ripken said.
Opening Day will be in spring 2016. The Ripken Experience Pigeon Forge will look out onto the Great Smoky Mountains and will feature a two-level clubhouse with more than 14,000 square feet, a 2,749-square-foot concession/restroom building with an adjacent pavilion, as well as the six lighted synthetic turf fields.
"Youth sports is an almost $9 billion industry in the U.S., and the Ripken Experience Pigeon Forge will steer some of that business to us. For several years, we have hosted summertime softball tournaments at our city park and have seen the impact of sports. However, this investment by the city means we're taking youth sports to a totally new level. Teaming up with Cal and Bill Ripken puts us on the map immediately," said Pigeon Forge Mayor David Wear.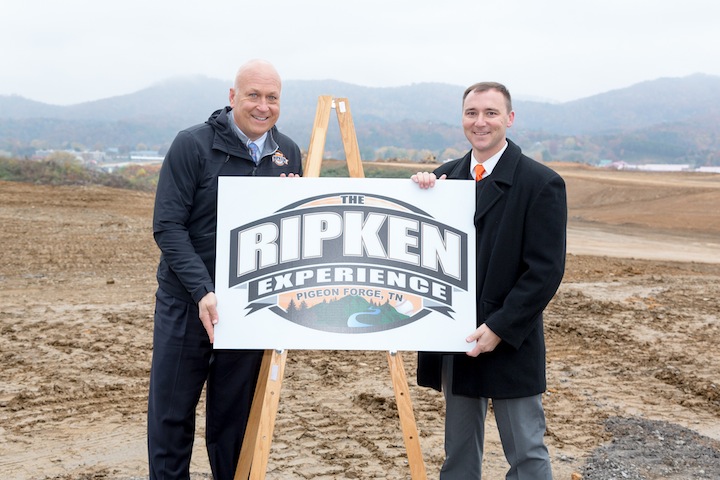 The Pigeon Forge location is Ripken Baseball's third Ripken Experience complex. The others are in Aberdeen, Md., and Myrtle Beach, S.C.
The Ripken Experience Aberdeen powered by Under Armour is in the Ripkens' hometown and is the site of the Cal Ripken World Series, which brings 10 teams of 12-year-old players from around the world to compete for a World Championship title each summer. The Ripken Experience Myrtle Beach features elite baseball and softball competition for 13- to 18-year-olds and is used as a spring training facility for college and high school teams.
Information about visiting Pigeon Forge is available online at MyPigeonForge.com or by calling toll-free to 800-251-9100.

About Ripken Baseball, Inc.
Ripken Baseball, Inc. is a sports entertainment company based in Baltimore, Md., that represents the business interests of Cal Ripken Jr. and Bill Ripken. Established in 2001, the mission of Ripken Baseball is to inspire athletes through remarkable experiences. Ripken Baseball currently owns and operates multiple Minor League Baseball teams and plays host to numerous youth tournaments, camps and clinics at the Ripken Experience baseball complexes in Maryland and South Carolina.
#
 Contacts:
Tom Adkinson, APR (for Pigeon Forge)
615-341-8796
Katy Ford (for Ripken Baseball)
Maroon PR
443-695-8099