PIGEON FORGE, Tenn. (December 2014) – Why not start the new year off seeing an award-winning variety show, watching the ball drop from Times Square in New York, dancing to a live band and sipping champagne at the Smoky Mountain Opry Theater in Pigeon Forge, Tenn.?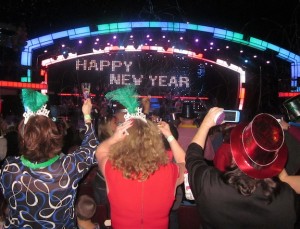 The 2014/2015 New Year's Eve party at the Smoky Mountain Opry Theater will start with the show "Christmas at the Smoky Mountain Opry" at 9 p.m. on Wednesday, Dec. 31, 2014. The holiday show features singers, dancers, ice skaters, aerialists, magicians and comedians. It has many special effects, including laser and pyrotechnics, and a live show band. There is also an appearance by a majestic rare white lion.
"Bring the whole family to our second annual family-friendly New Year's Eve show and party in our nice warm theater," said David Fee, president and chief executive office of Fee/Hedrick Family Entertainment Group. "Our award-winning variety show was mentioned in the December 2014 edition of Southern Living magazine as a 'Don't Miss Variety Show' in Pigeon Forge, and we don't want you to miss it! We will have a midnight countdown with champagne, soft drinks, hats, horns, confetti and streamers. Our New Year's Eve show is popular and filling up fast."
The theater will feature big screens broadcasting the live-feed ball drop in Times Square and a midnight balloon drop. After the ball drop, there will be a chance for guests to meet and greet the cast of the "Christmas at the Smoky Mountain Opry" show and dance with the live show band on the Opry stage.
"We will provide an evening filled with song, dance and laughter," Fee said.  "We want this to be a place where families start New Year's Eve traditions and memories. We will let the whole family come up on stage after the ball drop and dance to party music with our live band and singers."
The News Year's Eve ticket price is $59.95 plus tax per person. Kids are $19.95 plus tax.  The theater is located at traffic light 0 at 2046 Parkway in Pigeon Forge.  For more information, call the theater's box office 865-428-7469 or 1-800-768-1170 or visit http://www.SmokyMtnOpry.com. Guests are encouraged to ask about affordable New Year's Eve lodging nearby.
The Fee/Hedrick Family Entertainment Group, one of the largest show production companies in the southeast, is in its 20th anniversary season. The company also owns and produces three other major shows in the Smoky Mountain area, including  "The Comedy Barn®", The "Hatfield and McCoy Dinner and Show," "The Blackwoods Morning Variety Show" featuring the Blackwoods and will open a new show, "Magic Beyond Belief in March." Fee/Hedrick is running a special combination show deal that offers customers the opportunity to pay only $15 for "Christmas at The Smoky Mountain Opry" when they buy the world-famous "Hatfield and McCoy Christmas Disaster Dinner Show." The company also owns Happy Days restaurant, Chef's Catering and a website, seepigeonforge.com, that helps guests plan their entire Smoky Mountain experience online.
Contact:
Deborah Fee Newsom
865-414-6887 (cell), and 865-774-8877