PIGEON FORGE, Tenn. (March 2016) – Charlie Bob Smith of the Smith Family from Pigeon Forge, winner of The Mountain Press Readers' Choice Award seven times and "Entertainer of the Year" in 2009, will perform in a brand new show called "The Smith Morning Variety Show" at The Smoky Mountain Opry Theater in Pigeon Forge starting March 22.
Appearing with Smith will be a multi-talented cast of singers, dancers and musicians.  This is the first time Smith has performed with the Fee/Hedrick Family Entertainment Group, which is home to the popular Pigeon Forge shows: "The Comedy Barn," "The Hatfield and McCoy Dinner Feud," "Magic Beyond Belief," starring Darren Romeo, and "The Smoky Mountain Opry."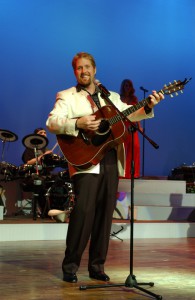 Smith is a former owner and performer of The Smith Family Theater.  A long-time local and fan favorite, Smith will star in his new morning show at 10:30 a.m. on Tuesdays, Thursdays and Saturdays. The Smith Family has entertained visitors to the Smokies for more than two decades.
"It is exciting to be bringing a new spectacular musical revue and comedy show to Pigeon Forge," said David Fee, president and chief executive officer of The Fee/Hedrick Family Entertainment Group.  "The Smith Family has always been one of the best loved family shows in the Great Smoky Mountains area. Visitors from across the country love Charlie Bob and come back to this area year after year to see him perform. I am proud Charlie Bob has joined our company and will be headlining our morning show.  He brings a unique mix of country, pop, and gospel hits to the stage as well as his world-class impersonations."
Charlie Bob Smith said, "I am excited to begin a new chapter in my career that is new and fun. I will perform the audience favorites I have always done – the impersonations of famous stars with some new looks and freshness in a spectacular venue at the Smoky Mountain Opry Theater."  Some of Smith's world-class impersonations include Elvis Presley, Willie Nelson, George Jones, Ray Charles and more than 30 others.
He remembers doing impressions of his grandparents when he was a child. The impressions of other performers came about through just trying things out in his living room or backstage.
For ticket information on the new "Smith Morning Variety Show," call (865) 428-SHOW (7469). Adult tickets are $29.95, plus tax. Children 11 and under are $9.95, plus tax.  Groups of 15 or more qualify for group rates, available by calling 1-866-492-6972. The Smoky Mountain Opry Theater is located at 2046 Parkway in Pigeon Forge. For more information about the show, visit http://www.SmithMorningVarietyShow.com or call 1-800-768-1170.
The Fee/Hedrick Family Entertainment Group, one of the largest show production companies in the Southeast, produces this show. The company produces eight other entertainment shows in Pigeon Forge as well owning Happy Days Diner, Chef's Catering and a website http://www.SeePigeonForge.com that helps visitors in planning their entire Smoky Mountain experience online.
#
CONTACT:
Deborah Fee Newsom,
(865) 414-6887 or (865) 774-8877