PIGEON FORGE, Tenn. (November 2015) – From Santa and his magical elves to the area's largest living Nativity, "Christmas at the Smoky Mountain Opry" Theater in Pigeon Forge, Tenn., is opening its spectacular Christmas show on Nov. 2.
Filled with the music of the holiday season, the multi-million dollar "Christmas at the Smoky Mountain Opry" show features award winning aerialists and ice skaters and Santa's giant workshop, where toys come to life. The Christmas show includes lots of live animals such as majestic camels, horses, donkeys and a rare white lion.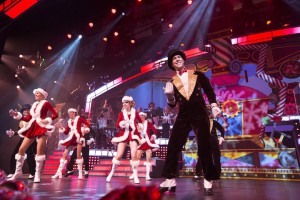 "'Christmas at the Smoky Mountain Opry' has been expanded to be an even bigger and better Christmas celebration than previous years," said David Fee, president and chief executive officer of The Fee/Hedrick Family Entertainment Group. "Our Christmas show brings to the stage a talented cast of musicians, singers, dancers and comedians performing in the largest, most spectacular Christmas show in the Smokies. We have traditional and new Christmas music, as well as a section of the show devoted to a country Christmas. We have the beauty of the true meaning of Christmas – a huge living Nativity scene that tells a story and celebrates the birth of Christ. This dramatic representation of the major events related to the birth of Christ includes animals, shepherds, wise men, Mary, Joseph and, of course, little baby Jesus.
"This is a magical and fantastic Christmas show," Fee said. "There is something for the entire family. We have the best performers in the whole area including incredible aerialists and funny acts such as Slim Chance, a hilarious comedic juggler, who was named Branson comedian of the year, two years in a row. This is our 'Year of the Elves,' and Santa's elves are prominent in this year's show. They are busy working overtime and feeling the stress of the deadlines of Christmas. This enormous production also has unique special effects such as flying musicians and angels, snow falling softly in the theater and an electrifying laser light show."
Fee said that the staff, producers, directors and entertainers have put into the show all of the things that remind people of Christmas such as jingle bells, dazzling lights and being at home with your family.
"We knew we wanted to create a family tradition that people would want to come back to year after year," Fee said.  "We want to help people create Christmas memories. We are bringing back audience favorites from last year, and we have many new surprises to make the show even better this year. For example, we have created a very special Christmas moment for veterans. We have beautiful new costumes, amazing choreography, incredible special effects and lavish sets.
"We have an ice rink on stage that appears and disappears," Fee said.  "We have former 'Disney on Ice' ice skaters Marco Del Zotto and Samantha Delgado, who will be bringing their pinpoint precision, graceful elegance and gravity-defying lifts to our stage. We also have Santa Claus, of course. We are extremely proud of 'Christmas at the Smoky Mountain Opry'. This show is amazing and exhilarating!"
Fee co-produces the show with David Horton, creative director/consultant for Fee/Hedrick Family Entertainment Group. Joel Bruce is the production manager, Sandy Inbody is the director, Brandy Bailey is the choreographer, Asia Milburn is the costume designer and Marshall Whaley is the lighting/special effects designer.
Fee said, "Whether you are just starting your family tradition of coming to Christmas at the Smoky Mountain Opry or continuing this tradition from years past, our hope is that you and your family will feel the wonder that only this season brings, and we are honored to be a part of your Christmas celebration."
"Christmas at the Smoky Mountain Opry" Theater is performed this season in the afternoon matinee slot at 3 p.m. on Tuesday, Wednesday, Thursday and Saturday and in the evening at 8 p.m. every night of the week. Tickets for the Christmas show are $49.95, plus tax each, and children 11 and under are $19.95 plus tax each. Group rates are available for groups of 15 or more for the Christmas show. The show will run until Jan. 3, 2016.
The theater is at traffic light 0 at 2046 Parkway in Pigeon Forge. For more information, call the theater's box office 865-428-7469 or 1-800-768-1170 or visit http://www.SmokyMtnOpry.com. "Christmas at the Smoky Mountain Opry" will have a special New Year's Eve Show on Dec. 31.
In the Dec. 2014 edition of "Southern Living" magazine, the Smoky Mountain Opry was named the "Don't Miss Variety Show" of Pigeon Forge. It was also awarded the Trip Advisor Certificate of Excellence for having a 5-star average rating on that site, making the "Smoky Mountain Opry" show one of the top-performing 10 percent of businesses worldwide on Trip Advisor.
Cast members for this year's "Christmas at the Smoky Mountain Opry" show include specialty acts: ice skaters Marco Del Zotto and Amie Delgado; aerialists, Leann Farley and Simmone Gruzdev; and comedic juggler, David Hirschi, as Slim Chance. Vocalists include Marissa Haye, vocal captain, and Anthony Bailey, TC Barnette, Kendal Manning, Hollie Tkacik, and Hugh Warren. The understudies are Anthony Bucciero and Maria Albani-Cook. Singer/dancers include Scott Johnson and Liz Sambol. Dancers include  Adam Gullidge, dance captain, and Rocky Bowyer, Summer Collins, Casey DiPersio, Travis Layman and Amanda Russell. Understudies are Brandy and Beetle Bailey. Chorus members include Cedric Paige and Amy Jo Wagner. Band members, led by band director, Johnny Hodges include Mark Holbrook, Vince Ilagan, Dave Jackson, Chris Patterson, Daniel Reeves, Greg Stout, Jarod Wilson and Kaleb Wright.
The Fee/Hedrick Family Entertainment Group, one of the largest show production companies in the Southeast, is now in its 20th anniversary season. The company also owns and produces other major shows in the Smoky Mountain area including  "The Comedy Barn", The "Hatfield and McCoy Christmas Disaster Dinner and Show,"  "The Blackwoods Morning Variety Show" featuring the Blackwoods and "Magic Beyond Belief" starring Darren Romeo (which will reopen in March). Fee/Hedrick offers a combination show deal for only $14.95 plus tax for adult tickets to "Christmas at the Smoky Mountain Opry" when guests buy a ticket to the "Hatfield and McCoy Christmas Disaster Dinner and Show" nfor $54.95 plus tax. With this combo deal, children are free to the "Christmas at the Smoky Mountain Opry" (one child per paying adult). The company also owns Happy Days Diner restaurant, Chef's Catering and a website, seepigeonforge.com, that assists visitors in planning their entire Smoky Mountain experience online.
Contact:
Deborah Fee Newsom
Director of Public Relations and Merchandising
(865) 414-6887 (cell), (865) 774-8877