PIGEON FORGE, Tenn. (February 2016) — Visitors to Pigeon Forge can sample a taste of the Old West, prepared by authentic chuck wagon cooks, on Saturday, Feb. 20. The Saddle Up Chuck Wagon Cookoff and Lunch are part of Saddle Up, a five-day celebration of the American West, Feb. 17-21.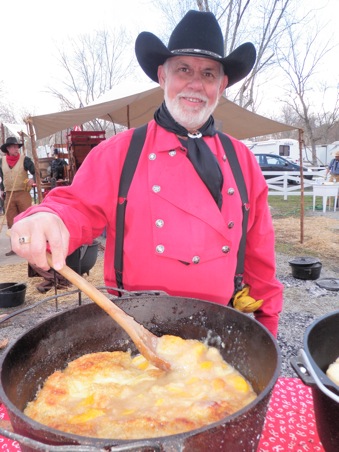 Chuck wagons were a vital part of America's history, feeding cowboys as they drove cattle and horses west. Wagons just like those will be in Pigeon Forge. The cook teams will be anxious to show off their skills, as they compete for cash and prizes. After the food has been judged, each wagon will serve lunch for $12.50 per plate.
A record nine teams and wagons will travel from five states. Visitors can purchase lunch from wagons carrying names like Circle L Chuckwagon, Circle S Bar, Double X Ranch, Greenhorn Cattle Company, Grumpy's Grub, JL Cattle Company, R/D Chuckwagon, Ramblin' Rose, and Skillet & Spurs.
Each chuck wagon team will prepare chicken-fried steaks, potatoes, beans, bread, cornbread and a dessert. They are judged on individual food categories and the authenticity of wagons and camp set-ups. Winners will be announced Saturday afternoon, prior to a 6 p.m. Saddle Up concert at the LeConte Center at Pigeon Forge.
Tickets may be purchased in advance at www.MyPigeonForge.com/saddleup.  Remaining tickets will be sold onsite the day of the cookoff. Past years have seen more than 600 meals served.
The cookoff is at Clabough's Campground on Wears Valley Road and is preceded by the Buckeroo Roundup, with a number of family-friendly activities that lead up to the cowboy-style lunch. Admission to the Buckeroo Roundup is free.
Ticket information and a complete schedule of all Saddle Up activities are available at www.MyPigeonForge.com/saddleup or by calling 1-800-251-9100.
#
Award-winning Chuck Wagon Cook Returns to Pigeon Forge
PIGEON FORGE, Tenn. (February 2016) — Award-winning chuck wagon cook and entertainer Kent Rollins will be in Pigeon Forge during Saddle Up. He and his Red River Ranch chuck wagon and team will be at the LeConte Center at Pigeon Forge, where they will cook for three intimate evening dinner shows.
In addition to running a successful catering business and feeding cowboys on working ranches, Rollins has been featured on Food Network shows, including Throwdown! with Bobby Flay, Chopped Grill Masters and Chopped Redemption, NBC's Food Fighters, and has appeared on Fox News and the Hallmark Channel. In 2015, he published a best-selling cookbook, A Taste of Cowboy.
#
Contact:
Donnette Engebrecht
615-341-8768