PIGEON FORGE, Tenn. (June 2015) – Where do trained pigs, parrots, housecats, dogs and a mini-donkey all perform together? The answer is at The Comedy Barn Theater in Pigeon Forge, Tenn., where The "Comedy Critters Pet Show" has returned for a second summer season of furry fun.  The show just opened in the matinee slot at 2 p.m. on Monday, Wednesday, Friday and Saturday and will continue until Aug. 8.
The two-hour show includes zany comedy, animal antics and family fun.  The main act is Anthony and Alena King and their trained "Comedy Critters" performing in a pet variety act.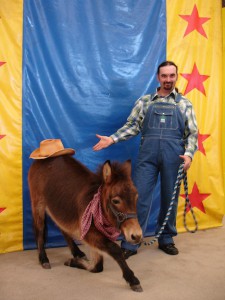 They have performed on Animal Planet's "Pet Star, " on "The Tonight Show" with Jay Leno, at theme parks, festivals, fairs, pet expos, conventions and corporate events across the country, in theaters in Branson, Mo., and with "The Comedy Pet Variety Show" in Lakeland, Fla., as well as with the Royal Hanneford Circus.
Ten high diving housecats all perform in a comedy routine. They jump through hoops, zigzag, do a high-step routine, an Olympic pole balance, an upside down walk, super jumps, and they even do a high diving stunt. In addition, pig stars Boris Bacon and Jessie Hamm compete with the audience in piggy games.
"The Comedy Barn Theater is the most successful and most attended clean comedy theater in the world," said David Fee, president and chief executive officer of Fee/Hedrick Family Entertainment Group and co-owner of The Comedy Barn Theater. "We have fun, amazing animals. Charlie the donkey astounds the audience with his mathematical skills, and we have wonderful waltzing dogs. There is also a Comedy Barn canine act where the dogs do hurdle jumps and barrel rolls, they roll over, they do a hind leg stand and they even jump rope."
There are even exotic birds. "The birds do comedy, skate, ride scooters and bicycles, go through roman rings, perform on the high wire, dance, pull carts, see-saw, do foot juggling, fly through rings and many other feats," said Fee.
"The Kings joined the Comedy Barn a year ago, and their act was so requested that we opened up a matinee format where they can perform with all of their animals in one show," said Fee. "A couple of their animals are also in our regular Comedy Barn Show every night."
King is a former accomplished aerialist and high wire walker. In addition to performing animal acts and aerialist work, King is also a drummer and has done lighting, video and backstage work for many theater shows. His wife is a former aerialist and fire spinner.
In addition the new "Comedy Critters Pet Show" features award winning comedian, ventriloquist and man of many voices, Stephen Knowles, who performs a ventriloquism act with animal puppets including a monkey, a little red horse, a baby bird and a pelican.
He has performed at The Comedy Barn Theater for the past 18 years. He has appeared on national television programs, at resort casinos and hotels, on cruise ships and at Fortune 500 corporation events. His pelican routine won an international ventriloquism competition in 1994.
Ventriloquism is an ancient art form, Knowles said.  "I use ventriloquism for everything from soft puppets to audience volunteers," he said. Knowles has a passion for entertaining.
He became interested in ventriloquism after he got a dummy as a Christmas present – one of the things he had circled in the back of a Sears's catalogue many years ago. At that time, he found he had a knack for ventriloquism, and he found he liked being an entertainer. "Now, I have a vocation that is a vacation," Knowles said. "I love every minute of it."
Also featured in the matinee show is magician/comedian Greg Franklin as goofy Farmer Klemm. A native of Kannapolis, N.C., Franklin has been performing professionally since he was 16 when he landed a part in the Paul Osborne Merlin Rainbow Mystery Cavern Show just down the road at the site of what is now lost Treasure Miniature Golf.
Since then, he starred in his own magic show produced by Dallas-based Osborne at amusement parks all over America. He owned his own magic store near Orlando, created a villainous professional wrestling character named "The fabulous Mister Franklin" and was appearing at the Carolina Nights Dinner Theater in Maggie Valley before coming here. He performs two different animal-themed comedy/magic routines in the matinee show.
Another performer in the show is Wes Herrick, who formerly played Duffy and Granny at The Comedy Barn Theater and most recently played Pa McCoy at "The Hatfield and McCoy Dinner Show".  Also in the show is Bill Young, who is also a "Hatfield and McCoy Dinner Show" street character. Assisting all of the performers are Carrie Arp and Lindsay Hamm.
Fee said, "Our goal is to offer clean, family entertainment at a reasonable price. The main focus of our new show is comedy critters; however we have some pretty spectacular magic and ventriloquism, too. This is a variety show that the whole family can enjoy. We combine laughter with lots of fun and talented performers to delight people of all ages."
Now in its 20th season and open year round, The Comedy Barn Theater has two regular shows nightly as well as the new "Comedy Barn Critters Pet Show" matinee show. Tickets for the new matinee show are $29.95 plus tax for adults and $9.95 plus tax for children ages 3-11. There is a combo price of $14.95 plus tax for people who also purchase tickets to the regular Comedy Barn Show. Toll free 1-800-29 LAUGH or (865) 428-5222.  For more information, visit www.comedybarn.com .
The Fee/Hedrick Family Entertainment Group
One of the largest show production companies in the Southeast, The Fee/Hedrick Family Entertainment Group also owns and produces five other major shows in the Smoky Mountain area: "The Comedy Barn Show," "The  Smoky Mountain Opry," The "Hatfield and McCoy Dinner Show," "The Blackwoods Morning Variety Show" featuring the Blackwoods and a new show, "Magic Beyond Belief™" starring Darren Romeo. The company also owns Happy Days restaurant and Chef's Catering.
###
CONTACT:
Deborah Fee Newsom
(865) 774-8877 or (865) 414-6887 (cell)