PIGEON FORGE, Tenn. (January 2015) – The Neon Extreme National Championships, a cheer competition that is part of the CXE GLOW TOUR, will showcase all-star, recreational, scholastic and collegiate talent in a competition that could bring as many as 9,000 visitors to Pigeon Forge this spring.
The event, an expansion project for CXE Cheer in New Market, Md., will be at the LeConte Center at Pigeon Forge on March 7-8, 2015.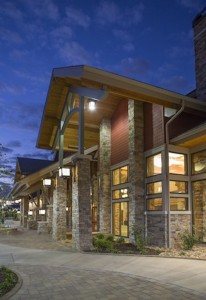 CXE Cheer owner Tony Bennett anticipates up to 120 competitive teams accounting for 2,500 to 3,000 athletes, plus 5,000 to 6,000 family members and other spectators. Most competitors' ages will range from 5-18, while there will be some college-age participants.
"There's an always-entertaining parent division, too," Bennett said.
Neon Extreme National Championships will be one of 10 CXE Cheer events in 2015 and the only one lasting two days. It is the first CXE event to offer more than $40,000 in cash prizes.
Participants come from all over the U.S. for CXE Cheer competitions, which usually are in arenas, convention center and college athletic facilities.
Bennett said he received an unsolicited overture from the LeConte Event Center and was intrigued enough to take a look.
"I loved the facility, but I didn't know what to expect in the community before getting to town. I'd never been to Pigeon Forge," he said, explaining that restaurants, attractions and activities for everyone who attends CXE Cheer event are vital to success.
"The instant I drove into town and saw all that is here, I said, 'This is the place. This makes 100 percent sense,'" Bennett said.
The LeConte Event Center opened in October 2013. It was the site of more than two dozen tradeshows, consumer shows, assemblies and athletic events in its first year, with a total attendance of more than 250,000 people. Its biggest event was the National Quartet Convention last September, which featured multiple nights of full-house concerts.
Its first athletic event, the Make It Count Gymnastics Classic, drew approximately 800 gymnasts and hundreds more family members and spectators last February. That event returns Feb. 14-16, 2015.
Neon Extreme National Championships will fill the 100,500-square-foot LeConte Hall, the primary space of the 232,000-square-foot facility. The Pigeon Forge Department of Tourism operates the LeConte Event Center.
Details about the LeConte Event Center are at LeConteCenter.com, and information about visiting Pigeon Forge is at MyPigeonForge.com.
#
Contact:
Tom Adkinson, APR
615-341-8796