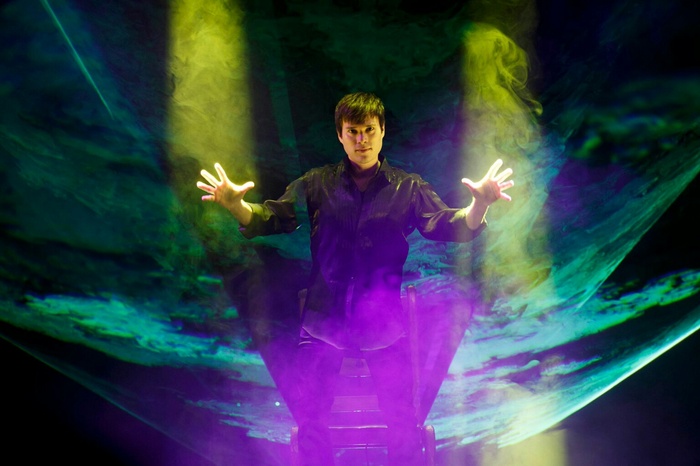 Pigeon Forge, Tenn., March 28, 2016– "Magic Beyond Belief™" starring Darren Romeo has begun its second season of magical entertainment complete with thrills, surprises and exotic animals at the Smoky Mountain Opry™ Theater in Pigeon Forge, Tenn.   Romeo, a magician and a singer, stars in a critically acclaimed, full-scale production magic show that features white tigers, large-scale original illusions, vocal performances, celebrity impersonations, comedy and a huge tribute to the magicians who inspired him the most:  Siegfried and Roy and Harry Blackstone Jr.
"This year there are some new and fun elements added to an already incredible one-of-a-kind illusion show," said David Fee, president and chief executive officer of The Fee/Hedrick Family Entertainment Group.  "We hope you will join Darren as he 'Talks to the Animals' combining puppetry designed by Michael Curry (of Broadway's 'The Lion King) and the incredible magic from Siegfried & Roy's Las Vegas show.  The hilarious 'Tiger Tails' segment that Siegfried and Roy gave Darren contains puppet tails that come to life, dancing around the stage, all the while interacting, talking and singing with Darren. This new addition is definitely sure to be a treat for kids of all ages!
"There is also a new magical piece celebrating 'Heroes' that has been added to the show," Fee said.  "We all have heroes. When we are children, we have heroes, and as we grow older, our definition of heroes changes. In a beautiful, magical, musical, multimedia tribute to heroes of all kinds, Darren introduces a rare Frank Sinatra song with an entirely new and modern twist. This is the don't miss show of 2016!
"All that said, this outrageously high energy show that features magic, music, comedy and our 650-pound tiger, Hollywood, is sure to be the talk of the town again this season," Fee said. "Magic Beyond Belief is Pigeon Forge's premier show for amazing, heart-pounding, fast-paced magic and grand illusions!"
The first and only protégé of world-renowned magicians Siegfried & Roy, Romeo appears six days-a-week March through October at The Smoky Mountain Opry™ Theater.  Romeo's "Magic Beyond Belief™" is known for his combination of live singing with the art of magic and illusion for a one-of-a-kind magical performance. He previously performed in his own show as "Siegfried & Roy presents, Darren Romeo" at the Mirage Resort Hotel and Casino in Las Vegas and all over the world.  He has also performed at Caesar's Palace and the Flamingo Hilton in Las Vegas, at the world famous Magic Castle in Hollywood, Calif., and other venues such as the Eldorado Resort Casino in Reno, Nev., Beau Rivage Resort and Casino in Biloxi, Miss.; and Bally's Atlantic City Hotel and Casino, (N.J.).
One of the most awarded magicians in the history of magic, Romeo has garnered an extensive list of accolades including:
"Magician of the Year" from the Magic Castle, The Academy of Magical Arts, Inc., "Show of the Year" (two years in a row) from the Branson Critic Association and the Milbourne Christopher Award for Notable Contributions to the "Art of Magic" from The Society of American Magicians (SAM).
In addition to all of the large illusions that audiences would expect to see on stage from Siegfried & Roy's protégé, Romeo performs close-up magic and sleight of hand tricks in the show as well.  Two large video screens complement the show as well as music, dancers, elaborate sets, magnificent costumes and state-of-the-art lighting and sound systems.
Also Romeo carries on Harry Blackstone Jr.'s legacy by performing his famous "Floating Light Bulb" Illusion.  He is the only magician in the world granted permission from the Blackstone family to perform this tribute.
The New York Daily News called Romeo's show "Irresistible" and the Las Vegas Review-Journal said it was "the most unique and compelling show to hit the strip in many years." While Entertainment Today said his show was "Extraordinary. Fantastic!"
Darren Romeo in "Magic Beyond Belief™" is performed in the afternoon matinee slot at The Smoky Mountain Opry™ Theater at 3:00 p.m. on Monday, Tuesday, Thursday, Friday, Saturday and Sunday. Tickets for the show are $29.95, plus tax each, and children 3 to 11 and under are only $9.95 plus tax. Children under 3 years old are free.  The 1400 seat theater is located at 2046 Parkway in Pigeon Forge.  For more information call the theater's box office (865) 428-7469 or 1-800-768-1170 or visit pigeonforgemagic.com.
The Fee/Hedrick Family Entertainment Group, one of the largest show production companies in the southeast, also owns and produces many other major shows in the Smoky Mountain area including  "The Smoky Mountain Opry™," the "Hatfield and McCoy Dinner Feud™," "The Comedy Barn®", and "The Smith Morning Variety Show" featuring Charlie Bob Smith and Billy Baker as "Elwood Smooch."
Fee/Hedrick Family Entertainment offers a combination show deal when guests buy a ticket to the "Hatfield and McCoy Dinner Feud™" for $54.95 plus tax they can buy a ticket to "Magic Beyond Belief™" starring Darren Romeo for only $19.95 plus tax for an adult ticket. With this combo deal, children are free to the "Magic Beyond Belief"™ show starring Darren Romeo (after guests have bought a child's ticket to the "Hatfield and McCoy Dinner Feud™").   The company also owns Happy Days restaurant, Chef's Catering and a web site, seepigeonforge.com, which assists visitors in planning their entire Smoky Mountain experience. +++