Pigeon Forge salutes hometown superstar Dolly Parton on May 2
PIGEON FORGE, Tenn. (April 2014) – Firefighters, fire trucks and Dolly Parton are in the combustible mix on May 2 when Pigeon Forge salutes the world-famous entertainer with the annual Dolly's Homecoming Parade.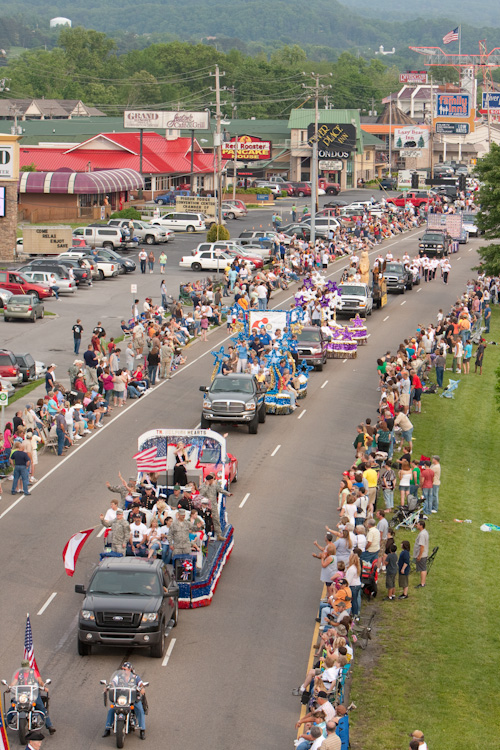 The parade, which will travel on the Parkway through the center of town, will carry the theme of the Dollywood theme park's newest thrill ride, the FireChaser Express roller coaster.
Traveling right behind Parton on her own FireChaser Express float will be Pigeon Forge's newest piece of firefighting equipment, a massive 100-foot ladder truck.
The parade starts at 6 p.m. at Traffic Light 6 and goes north to Traffic Light 3. Spectators are invited to line both sides of the route.
"Dolly's Homecoming Parade is a rite of spring for us. We want to salute Dolly for the many wonderful contributions she makes to our community, and the parade lets fans shout out their support, too," said Leon Downey, executive director of the Pigeon Forge Department of Tourism, which organizes the parade.
More than 110 floats, marching bands, vehicles and organizations will be in the parade, including the marching bands from Pigeon Forge High School and Sevier County High School.
A special participant is the 190-member Crossroads Christian Church Choir from Newburgh, Ind., which will perform at the Dollywood theme park the next day.
Others in the parade include Girl Scouts, twirling groups, Shriners, veterans groups, the Boys and Girls Club, equestrian clubs and the Friends of the Smokies, the private sector support group for Great Smoky Mountains National Park.
"It's a big parade with a small-town flavor and an international superstar in the lead float. It's quite an event," Downey said.
For information about all aspects of Pigeon Forge and other city-sponsored events, visit MyPigeonForge.com or call toll-free to 1-800-251-9100.
#
Contact:
Tom Adkinson, APR
615-341-8796