PIGEON FORGE, Tenn. (August 2014) – Dollywood landed firmly near the top of USA TODAY's 10Best Readers' Choice contest for Best Theme Park. Underscoring the park's commitment to providing a memorable and enjoyable experience for guests, the third place showing proves once again what visitors have said for years—Dollywood is a special place.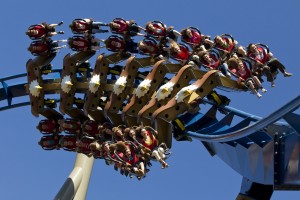 USA TODAY's 10Best Readers' Choice Award contest launches one new category each Monday at noon with 20 nominees. Nominations are made by an expert panel, and after four weeks of public voting, the results are released.
"We already know Dollywood provides families the perfect atmosphere to create memories to last for a lifetime," said Craig Ross, president of the Dollywood Company. "We're excited to see so many people agree. Placing third in USA TODAY's 10Best Readers' Choice award certainly shows we're doing something right. In our park, we have award-winning rides, world-class entertainment, unique food choices and talented craftsmen. Combine all of that with our friendly and attentive employees, and it's fulfilling that our guests are eager to vote for us."
Six Flags Magic Mountain in Valencia, California, placed first, while Six Flags Great Adventure in Jackson, New Jersey, is second. Other parks in the top ten included Cedar Point in Sandusky, Ohio, (fourth); Hersheypark in Hershey, Pennsylvania, (fifth); Disney's Magic Kingdom in Lake Buena Vista, Florida, (eighth); and Disneyland Park in Anaheim, California, (tenth). The full list can be seen at http://www.10best.com/awards/travel/best-theme-park/.
"USA TODAY is thrilled to have this method of sharing what 10Best and USA TODAY readers and users love most," said John Peters, president of USA Today Travel Media Group. "Our readers are well-informed, well-traveled and opinionated. At the end of the day, content on our platforms is a reflection of them. A destination, organization or business which finds itself the recipient of a 10Best Readers' Choice Award has really accomplished something."
Nominees for all categories are chosen by a panel of relevant experts which include a combination of editors from USA TODAY, editors from 10Best.com and relevant expert contributors. The nomination panel for each award category is displayed on its associated contest page. All voting is digital, and the 10Best Readers' Choice Award contest is accessible on the 10Best.com website. The public may vote for one nominee per category, per day.
About the Dollywood Company: A highly awarded and widely recognized leader in the amusement industry, the Dollywood Company consists of the 150-acre Dollywood theme park; the 35-acre Dollywood's Splash Country and Dollywood Cabins. As unique as its namesake and owner Dolly Parton, Dollywood is the 2010 Applause Award winner, the theme park industry's highest accolade; the reigning five-time Golden Ticket Award winner; and recipient of 21 Brass Ring Awards for Live Entertainment (more than any other theme park in the world). Open nine months a year (late March through early January), Dollywood offers rides and attractions, shows, and a dozen crafters authentic to the East Tennessee region. Dollywood's Splash Country, recognized by the Travel Channel as one of the country's most beautiful waterparks and named 2009's Must-See Waterpark by the International Association of Amusement Parks & Attractions, operates from Memorial Day to Labor Day. Dollywood Cabins offers luxurious cabin accommodations overlooking Dollywood. For more information, call 1-800-DOLLYWOOD or visit dollywood.com. Operating days and hours vary.
For B-roll, photography and more information, visit the Dollywood Media Room at http://www.dollywood.com/Media/Media-Room.aspx.
Contacts:
The Dollywood Company
Pete Owens, 865-428-9486 or 865-755-7972
Public Relations Director
or
Wes Ramey, 865-428-9484 or 865-640-3805
Publicist