PIGEON FORGE, Tenn. (August 7, 2015)— Dollywood today announced the addition of Lightning Rod, both the world's fastest wood coaster and the world's first launching wood coaster. Set to roll to the starting line in March 2016, Lightning Rod adds another groundbreaking roller coaster to the park's already impressive portfolio of world-class attractions. The thrilling $22 million ride also marks the single largest attraction investment in The Dollywood Company's history.
Themed after a tricked out 1950s-era hot rod, Lightning Rod launches riders from zero to 45 mph more than 20 stories up its lift hill to one of the ride's first airtime moments. At the crest of the hill, riders face twin summit airtime hills before tackling the daring first drop. Lightning Rod races down the 165-foot drop and propels guests along its 3,800-foot-long track to a top speed of 73 mph, the fastest speed for a wood coaster in the world.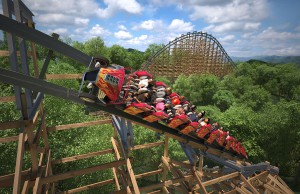 "Lightning Rod reminds me so much of those colorful cars cruisin' up and down Main Street in downtown Sevierville back when I was in high school. I remember all those souped up cars; but what I remember most were those good lookin' boys behind the wheel with those flat top and ducktail haircuts," Dolly Parton said with a laugh.
"I'm truly excited about this ride because it will let our guests experience something just as fast as those hot rods I remember," she continued. "Even better, it's the fastest wooden roller coaster in the world, so I think we're going to see a lot of people coming from all over to peel out on the Lightning Rod."
Located in Dollywood's Jukebox Junction, Lightning Rod rockets riders around its massive wooden structure on an adrenaline-charged lap through the trees in the hills and valleys surrounding Dollywood. During the ride, guests experience nearly 20 seconds of airtime. The coaster train is comprised of 12 cars, carrying two passengers each, for a total of 24 people per train.
Dollywood's development team has tapped Rocky Mountain Construction (RMC) as the ride manufacturer. RMC is no stranger to out-of-the-box coaster projects, having designed a number of innovative attractions around the world. Lightning Rod employs several unique features including the lift hill launch, twin summit airtime hills, a 90+ degree banked breaking wave turn, a 90+ degree outside banked turn, and a non-inverting half loop.
Lightning Rod puts riders in the driver's seat of Johnny Rev's newest hot rod. After months of tinkering, Johnny invites Dollywood guests to step behind the wheel for the first test drive of his flashy new creation. Like any proper hot rod, massive header pipes and an imposing injector scoop peer out from the train's flamed bodywork.
Lightning Rod is the newest member of The Dollywood Company's collection of award-winning attractions. In March 2012, Dollywood opened the $20 million Wild Eagle, the country's first wing coaster. The company introduced RiverRush, Tennessee's first and only water coaster, at Dollywood's Splash Country in 2013. FireChaser Express, the nation's first dual-launch family coaster, was added at Dollywood in 2014. Dollywood mainstays Thunderhead, consistently among the world's top five wood coasters, Mystery Mine, Blazing Fury and Tennessee Tornado round out the park's list of innovative coasters.
For more information about Dollywood's attractions, please visit www.Dollywood.com or call 1-800-DOLLYWOOD.
-dollywood2015-
About The Dollywood Company:  A highly awarded and widely recognized leader in the amusement industry, The Dollywood Company consists of the 150-acre Dollywood theme park; the 35-acre Dollywood's Splash Country; Dollywood's Smoky Mountain Cabins; and Dollywood's DreamMore Resort. As unique as its namesake and owner Dolly Parton, Dollywood is the 2010 Applause Award winner, the theme park industry's highest accolade; winner of nearly 30 Golden Ticket Awards; and recipient of 24 Brass Ring Awards for Live Entertainment (more than any other theme park in the world). In 2014, Dollywood was named a top three theme park by USA Today. Dollywood, celebrating its 30th anniversary in 2015, is open nine months a year (late March through early January) and offers rides and attractions, shows, and a dozen crafters authentic to the East Tennessee region.  Dollywood's Splash Country, recognized by the Travel Channel as one of the country's most beautiful waterparks and named 2009's Must-See Waterpark by the International Association of Amusement Parks & Attractions, operates from Memorial Day to Labor Day. Dollywood's Smoky Mountain Cabins offers luxurious cabin accommodations overlooking Dollywood. The 300-room Dollywood's DreamMore Resort provides guests spectacular mountain views and family-friendly amenities next door to Dollywood theme park and Dollywood's Splash Country. For more information, call 1-800-DOLLYWOOD or visit dollywood.com. Operating days and hours vary.
Media Contacts:
Pete Owens: Public Relations Director, (865) 428-9486, (865) 755-7972 or [email protected]
Wes Ramey: Public Relations Manager, (865) 428-9484, (865) 640-3805 or [email protected]
Amber Davis: Publicist, (865) 428-9601, (865) 591-1002 or [email protected]
Ellen Liston, Publicist, (865) 428-9629, (865) 919-7001 or [email protected]
For B-roll, photography and more information, visit the Dollywood Media Room at http://www.dollywood.com/Media/Media-Room.aspx.