PIGEON FORGE, Tennessee (May 2015)—After providing families with more than a decade of Smoky Mountain water adventure, Dollywood's Splash Country is diving in to its 15th anniversary season Saturday, May 16.
"I can't believe it's been 15 years since we opened Dollywood's Splash Country," said Dolly Parton. "So many of the attractions we've added through the years are imagined and built with me and my family's Smoky Mountain childhood in mind; I'm so happy to have shared those same adventures with families."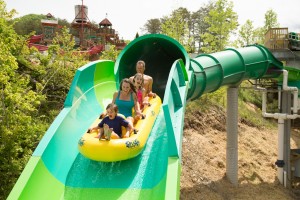 Originally designed in 2001 as a uniquely themed, state-of-the-art, family water park, Dollywood's Splash Country has continued to provide families a place to not only cool off, but to reconnect. It has continued to impress guests and industry experts alike, garnering national and international recognition.
The award-winning water adventure park now adds a new accolade to its list of achievements this year as Aquatics International named Dollywood's Splash Country as its 2014 Best of Aquatics: Theming. This award is another of many, as the park has previously been recognized as America's Must-See Water Park by the International Association of Amusement Parks & Attractions and one of America's best water parks by The Travel Channel. Also famous for its record-breaking water slides and attractions, Dollywood's Splash Country has grown over its 15-year residency in the foothills of the Smoky Mountains, to become the home of family favorites such as Tennessee's first and only water coaster, RiverRush, along with the state's tallest twin speed slides, Fire Tower Falls.
While the park's location offers the perfect place to have a Smoky Mountain adventure, guests also have come to enjoy a place where they can relax and recharge together. Dollywood's Splash Country offers guests the option to float down its 1,500-foot lazy river, or enjoy the gentle motion of its 25,000-square foot wave pool in between thrilling attractions like RiverRush or Slick Rock Racer.
During their visit to Dollywood's Splash Country, guests also will enjoy the same southern hospitality that won Dollywood theme park the title of the friendliest theme park in the world. With a wide variety of private retreats, including friendly food service or shady poolside canopies, park guests can enjoy time together in the setting of their choice. Retreats and canopies can be reserved and purchased online prior to the guests' park visit.
The park's impressive food team brings some of the sensational barbeque used at Dollywood during its Barbeque & Bluegrass festival to Dollywood's Splash Country to continue its 15-year tradition of serving up delicious dishes to hungry water park goers. Guests can find this tasty pulled pork served over nachos at the park's High Country Provisions food location.
Dollywood's Splash Country opens Saturday, May 16, with daily operation beginning on Saturday, May 23. Daily operation continues through Sunday, August 16, while the park opens on weekends through Labor Day weekend until Sept. 7. For more information about Dollywood's Splash Country or any of The Dollywood Company properties, please visit www.dollywood.com or call 1-800-DOLLYWOOD.
 -dollywood2015-
About The Dollywood Company: A highly awarded and widely recognized leader in the amusement industry, The Dollywood Company consists of the 150-acre Dollywood theme park; the 35-acre Dollywood's Splash Country; Dollywood's Smoky Mountain Cabins; and Dollywood's DreamMore Resort, opening in 2015. As unique as its namesake and owner Dolly Parton, Dollywood is the 2010 Applause Award winner, the theme park industry's highest accolade; winner of nearly 30 Golden Ticket Awards; and recipient of 24 Brass Ring Awards for Live Entertainment (more than any other theme park in the world). In 2014, Dollywood was named a top three theme park by USA Today. Dollywood, celebrating its 30th anniversary in 2015, is open nine months a year (late March through early January) and offers rides and attractions, shows, and a dozen crafters authentic to the East Tennessee region.  Dollywood's Splash Country, recognized by the Travel Channel as one of the country's most beautiful water parks and named 2009's Must-See Water Park by the International Association of Amusement Parks & Attractions, operates from Memorial Day to Labor Day. Dollywood's Smoky Mountain Cabins offers luxurious cabin accommodations overlooking Dollywood. The 307-room Dollywood's DreamMore Resort provides guests spectacular mountain views and family-friendly amenities next door to Dollywood theme park and Dollywood's Splash Country. For more information, call 1-800-DOLLYWOOD or visit dollywood.com. Operating days and hours vary. 
 Media Contacts:
Pete Owens: Public Relations Director, (865) 428-9486, (865) 755-7972 or [email protected]
Wes Ramey: Publicist, (865) 428-9484, (865) 640-3805 or [email protected]
Amber Davis: Publicist, (865) 428-9601, (865) 591-1002 or [email protected]
For B-roll, photography and more information, visit the Dollywood Media Room at http://www.dollywood.com/Media/Media-Room.aspx.