Drive-it-yourself alpine slide, 200-foot-tall observation wheel new to list
PIGEON FORGE, Tenn. (September 2013) – Autumn in East Tennessee gets people thinking about two things, football and fall foliage in Great Smoky Mountains National Park.
The tourist destination of Pigeon Forge offers five very elevated ways to view what Mother Nature paints in the mountains this season.
Smoky Mountain Alpine Coaster
This drive-it-yourself thrill ride opened this summer in a wooded cove along Wears Valley Road just off Pigeon Forge's bustling Parkway.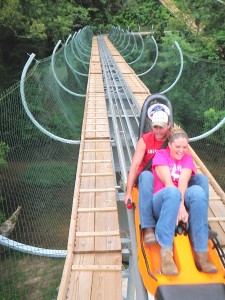 One or two passengers buckle on to open-air sleds that are pulled 1,385 feet up a hillside and into the trees and then turned loose for a 3,940-foot-long zip back to the starting point. You control the brakes and set your own speed along the sweeps, turns and spirals of the elevated track.
It's eerily quiet since you're not near other sleds – unless you whoop with delight as you enjoy the mountain scenery on an experience more than a mile long.
Great Smoky Mountain Wheel
The Island in Pigeon Forge is an emerging attraction/retail/dining/lodging complex in the heart of town, and it's impossible to miss because of its first attraction – the Great Smoky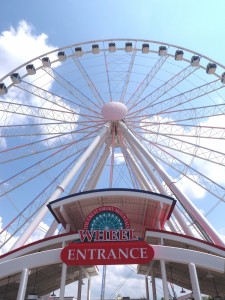 Mountain Wheel.
It's an observation wheel that reaches 200 feet above the Little Pigeon River and carries 42 glass gondolas on gentle, circular rides. Each climate-controlled gondola can carry eight passengers.
After viewing the mountains from this unusual perch, a variety of restaurants await you on the ground. A Jimmy Buffet's Margaritaville Restaurant is to open this winter.
Wonders of Flight
Wonders of Flight is a French-made helium balloon of gigantic proportions. How big, you ask? The balloon is 72 feet in diameter, and the gondola underneath it carries 30 passengers.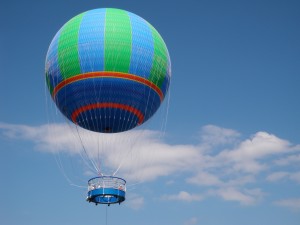 The balloon rises 500 feet into the air on a steel cable. There are amazing views of Pigeon Forge, Mt. LeConte, other peaks in Great Smoky Mountains National Park and on a really clear day all the way to Cumberland Gap, where Tennessee, Virginia and Kentucky meet – at least according to the balloon captain.
Wonders of Flight is part of WonderWorks, the wacky, upside-down science attraction at the north end of Pigeon Forge. Its operators call the balloon ideal for weddings, birthdays and general autumn sightseeing.
Wild Eagle at Dollywood
One of the quickest glimpses of Great Smoky Mountain fall color comes with a big dose of excitement – it's the view you get at the peak of Dollywood's Wild Eagle rollercoaster.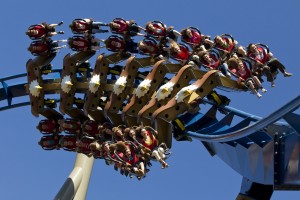 Wild Eagle, America's first wing-design coaster, sits atop the highest ridge in Dollywood, so your elevation is substantial. After you crest the peak, however, fall color becomes an exciting blur.
Wild Eagle earned two major awards when it opened in 2012 – Best New Attraction, according to the National Amusement Park Historical Association, and Best New Theme Park Ride from Amusement Today magazine.
Great Ape Observation Deck
The Great Ape of Pigeon Forge clings to the side of the Hollywood Wax Museum and towers 102 feet above the Parkway.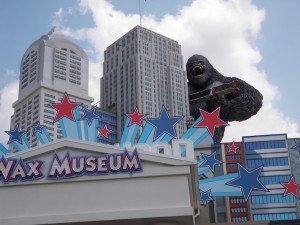 The ape is at a rather high point in Pigeon Forge, and there's an observation platform right beside his toothy maw. Access to the platform – and the opportunity for some very unusual photos – is provided with select attraction tickets.
Complete information about visiting Pigeon Forge is at MyPigeonForge.com or by calling 800-251-9100.
#
 Contact:
Tom Adkinson, APR
615-341-8796