PIGEON FORGE, Tenn. (Oct. 30, 2014) – The Inn at Christmas Place in Pigeon Forge will host three performances of "A Christmas Carol" on Nov. 5 and 6. This heartwarming show-of-the-season is performed by Gerald Charles Dickens, great-great-grandson of literary master Charles Dickens. 
Gerald, an actor and producer hailing from Oxford, England, will enact his captivating, one-man rendition of the timeless holiday classic.
Gerald bears more than a passing resemblance to his famous ancestor, who originally toured the U.S. in 1867 reading his literary works before spellbound audiences. Historians report that "A Christmas Carol" was his favorite piece to perform.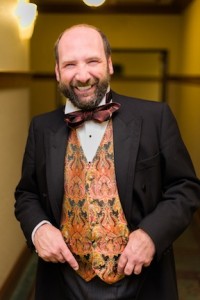 According to Gerald, his great-great-grandfather adored theater and initially wanted to be an actor but pursued writing as a career for practical purposes. For many years Gerald says that he himself "avoided anything to do with Dickens like the plague." But in 1993, when a friend asked him to do a reading of "A Christmas Carol" on its 150th anniversary of publication to help raise money for an historical restoration project, he couldn't turn him down. To his surprise, he enjoyed doing it, and has been delighting audiences around the world with his performance ever since.
During his energetic one-man show, Dickens brings "A Christmas Carol" to life.  He leaps, he sobs, he laughs . . . as he entertains . . . depicting 26 characters of the classic tale, with just a table, wing chair, and hat rack accompanying him on stage. 
He has created different postures and voices for each character, achieving this so adeptly that the audience has no doubt about "who is who," so to speak. Says Bob Byers, President of Byers' Choice Ltd., "It's a wonderful show – a great family tradition – the best way I know of to kick off the holiday season."
Dickens will perform three shows at The Inn at Christmas Place, at 3 p.m. and 8 p.m. on Wednesday, Nov. 5, and at 8 p.m. on Thursday, Nov. 6.  To purchase show tickets, call the hotel at 865-868-0525.  A limited number of hotel packages including show tickets and souvenirs are also available.
Tickets are $22 for adults, $19 for students. Public high schools in Sevier County are receiving five tickets each, in hopes that the play might be an inspiration to the next generation of actors and actresses!
Everyone is invited to meet Dickens at Christmas Place on Thursday, Nov. 6, from noon until 3 p.m., where he will sign a special selection of books and gifts. He will be happy to pose for photos during the signing as well.
This year marks his fifth appearance at The Inn at Christmas Place and Christmas Place.
"Many of our guests have returned year after year to see Gerald's performance of 'A Christmas Carol' because he relates in a personal way to every member of the audience," says company president Carolyn Fairbank-Biggs. "It's one of the most entertaining shows I have seen – and I didn't expect his performance to have me laughing so much!"
All photographs, audio, and video recordings are prohibited during the performances.
Dickens returns to the U.S. for his 2014 tour that will take him to more than a dozen states across the country. He will transform manufacturing facilities, churches, hotel ballrooms and lobbies into scenes straight out of the classic holiday tale, much as Scrooge was transformed from a dispirited miser into a joyous soul after his Christmas Eve encounter with ghosts from the past, present and future.
His performance is produced by Byers' Choice Ltd., makers of the nationally known Carolers® and Kindles® figurines, located in Chalfont, Pa. For more information on Dickens' 2014 tour calendar, visit www.byerschoice.com or phone 215-822-6700.
Find more information about his appearances at The Inn at Christmas Place, his biography, and links to video information, go to  www.innatchristmasplace.com/geralddickens.cfm or by call 1-888-465-9644.
 #
Contact:
Janet Donaldson
865-868-0571