PIGEON FORGE, Tenn. (Dec. 1, 2014) – The cast of the "Hatfield and McCoy Christmas Disaster Dinner Show" in Pigeon Forge, Tenn., is feuding more than ever.  Mayor Timothy O'Reilly (played by Tim Harleroad) is plotting to steal the Hatfields' and the McCoys' land in order to build some time-share property. When the two families discover his plans, they drop their feud and band together to do a "Scrooge" number on him.
"The Hatfield and McCoy Christmas Disaster Dinner Show" tells a hilarious story inspired by real-life tragic events. The musical clogging show is full of comedy, romance, forgiveness and laughter with many holiday twists.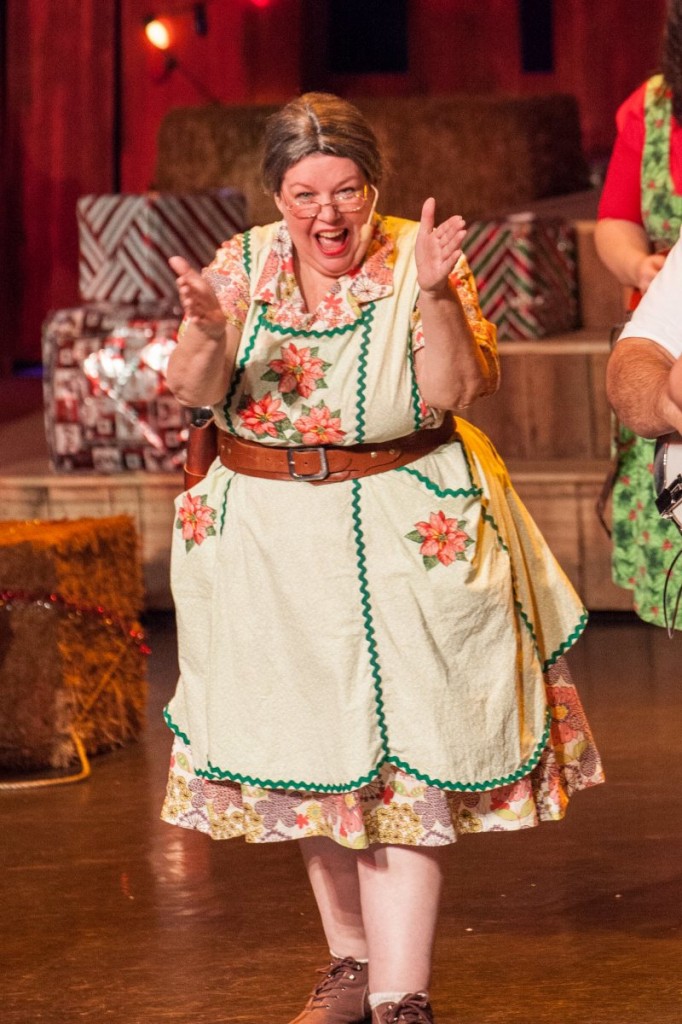 This approximately two-hour live show offers guests extraordinary country, bluegrass and gospel vocal and instrumental musical performances, award-winning hillbilly musicians and cloggers and a huge mountain feast. The Christmas feud is kicked off every day until Jan. 3 at 5 p.m. and 8 p.m., with occasional 2 p.m. matinees.
"This show is something the whole family can enjoy," said David Fee, president and chief executive officer of the Fee/Hedrick Family Entertainment Group. "It is Feudin', Feastin' and Family Fun. We also have a fabulous holiday home-style feast cooked by Granny. We start our guests off with our award-winning menu that includes Feudin' Fried Chicken, Open Pit Pulled-to-Pieces Pork Barbecue, Southern Style Creamy Soup, Smashed Mashed Taters, Bus Y'ur Jeans Pinto Beans, Keep It Comin' Cornbread, No Tellin' What's In It Coleslaw and Granny's Famous Specialty Desserts. A vegetarian option is also available upon request.
"You think your family is crazy at Christmas?" Fee said. "We put the fun in dysfunctional. We have two talented families who will bring you all the sweetness and craziness of this beautiful season. You will laugh, cry and laugh again! Whether you are city-folk or country cuzins, you will love the holiday singing and dancing, jaw dropping stunts and sidesplitting comedy.  This is a must see for the holiday season."
Guests are treated to a pre-show full of musical Christmas fun before the real show starts, Fee said. The show is full of references to everyone's favorite traditional Christmas stories and films.
The Hatfields and the McCoys invite each side of the audience to support "their kin" at the "Hatfield and McCoy Dinner Show" in the legendary hillbilly feud of rival families. The audience follows the lives of the two clashing mountain clans through their vibrant dancing and foot-stomping music that appeals to every generation.
For more information about the show, visit www.HatfieldMcCoyDinnerFeud.com or call (865) 908-7469 (SHOW). The Hatfield and McCoy Dinner Theater is located at 119 Music Road between traffic lights 0 and 1 on the Parkway in Pigeon Forge next to the Titanic.
The Fee/Hedrick Family Entertainment Group, one of the largest show production companies in the southeast, is now in its 20th anniversary season. The show is part of the Fee/Hedrick Family Entertainment Group that includes "The Comedy Barn®", the "Smoky Mountain Opry" and the "Blackwoods Morning Variety Show" featuring the Blackwoods. The company will open a new show, "Magic Beyond Belief," in March. The company also owns Happy Days Diner, Chef's Catering and a website, http://www.seepigeonforge.com that helps guests plan their entire Smoky Mountain experience online.
Ticket prices for The Hatfield and McCoy Christmas Show are $49.95 plus tax, and children are free. Group rates are available for groups of 15 or more. Fee/Hedrick is running a special combination show deal that offers customers the opportunity to pay only $15 plus tax for "Christmas at The Smoky Mountain Opry" when they buy the world-famous "Hatfield and McCoy Christmas Disaster Dinner Show."
#
Contact:
Deborah Fee Newsom
(865) 414-6887 or (865) 774-8877