Gymnastics competition to attract hundreds from several states in February
PIGEON FORGE, Tenn. (Oct. 9, 2013) – A youth gymnastics competition expected to attract several hundred athletes from at least a half-dozen states is the first athletic event booked at the new LeConte Center at Pigeon Forge.
Owners of the Make It Count Gymnastics Classic look for 600 to 800 gymnasts to compete during the Feb. 14-16, 2014, event.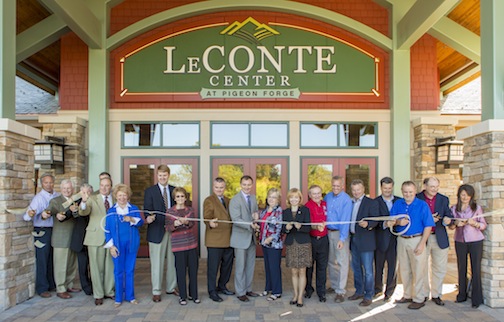 "The gymnasts are from ages 5-18, and they travel with parents, coaches and other family members," said Tracy Counts, who owns the event with Kerma Headrick. "The total number of people who will come to Pigeon Forge far exceeds the number of competitors."
Counts said that smaller events she and Headrick conduct draw participants from Tennessee, Georgia, North Carolina, Virginia and other nearby states, plus heavily populated states such as Ohio and Florida.
The LeConte Center at Pigeon Forge is a city-owned $45 million multi-purpose building designed to attract trade shows, competitive events, special events, festivals and large assemblies. Construction concluded in September.
The Make It Count Gymnastics will use LeConte Hall, which contains 100,500 of the building's 232,000 square feet. LeConte Hall's size and its 30-foot ceiling work well for the competition.
"This is one category of events we anticipated," said Leon Downey, executive director for the Pigeon Forge Department of Tourism. "The gymnasts will verify that it's great for cheerleading competitions, dance team competitions, volleyball tournaments and similar activities needing our interior space and the lodging, restaurants and attractions of Pigeon Forge, too."
Counts, who was a collegiate gymnast at East Tennessee State University and James Madison University, said Pigeon Forge's family appeal was a major factor in the decision to choose Pigeon Forge.
"The competition is a very family-oriented event, so the location is important. Pigeon Forge is very family friendly and offers families much to do beyond the actual competition. Pigeon Forge works for everyone," Counts said.
Counts said the Make It Counts event will be her largest activity of the year. Others are in Maryville, Tenn., where she operates Gymnastics Counts. She has been a gymnastics coach for almost 30 years.
LeConte Center at Pigeon Forge opened this month, and its first booking is the full-house International Gift Exposition in the Smokies/Souvenir Super Show in November.
Other bookings include a five-year commitment for Women of Joy conferences with Phil Waldrep Ministries, a five-year commitment for the Pentecostal Fire Youth Conference and a two-year commitment from the National Quartet Convention. The National Quartet Convention is a weeklong event that regularly attracts 40,000 attendees.
Details of the LeConte Center at Pigeon Forge are at LeConteCenter.com.
#
Contact:
Tom Adkinson, APR
615-341-8796