PIGEON FORGE, Tenn. (May 20, 2016) – The duo of Maddie & Tae is one of country music's hot new acts, and the Pigeon Forge Department of Tourism has booked the two highly declarative singers for a exclusive concert on July 31.
The audience will be limited to approximately 100 winners of the no-cost-to-enter Maddie & Tae Pigeon Forge Getaway sweepstakes that concludes May 31. To enter, visit MyPigeonForge.com/maddieandtae.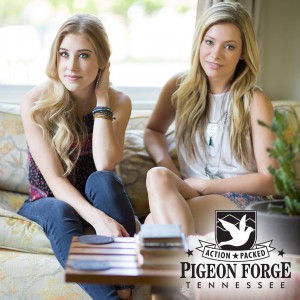 Maddie Marlow and Tae Dye brought their distinctive styles from Sugar Land, Texas, and Ada, Oklahoma, to Nashville in 2014 and scored immediate hits on their first album, "Start Here," released in August 2015. The Academy of Country Music named them the 2015 Vocal Duo of the Year.
"Girl In A Country Song" got instant acknowledgement from NPR, Rolling Stone and David Letterman, and songs such as "Shut Up and Fish," "Fly" and "Sierra" are securing new fans for Maddie & Tae.
"The music of Maddie & Tae is a treat, and the singers themselves are wonderful people. We wanted to present them to an appreciative and intimate audience, and we hope our contest winners become fans of Maddie & Tae and of Pigeon Forge," said Leon Downey, executive director of the Pigeon Forge Department of Tourism.
In addition to the concert, winners will meet Maddie & Tae and will receive a three-night Pigeon Forge vacation that includes admission to Dollywood and Dollywood's Splash Country, admission to almost two dozen other Pigeon Forge attractions, and $500 for travel expenses.
Pigeon Forge, a gateway to Great Smoky Mountains National Park, is one of America's top family vacation destinations. Each year, more than 10 million people visit Pigeon Forge.
Information about all aspects of Pigeon Forge is available online at MyPigeonForge.com or by calling 800-251-9100.
#
Contact:
Tom Adkinson, APR
615-341-8796