PIGEON FORGE, Tenn. (April 15, 2014) – Where do trained pigs, parrots, housecats, dogs and a mini-donkey all perform together?
The answer is the Comedy Barn Theater in Pigeon Forge, Tenn. Anthony and Alena King and their trained "Comedy Pet Variety Act" have joined the cast of the Comedy Barn.
They have performed on Animal Planet's "Pet Star," on "The Tonight Show" with Jay Leo, at theme parks, festivals, fairs, pet expos, conventions and corporate events across the country, in theaters in Branson, Mo., and with "The Comedy Pet Variety Show" in Lakeland, Fla., as well as with the Royal Hanneford Circus.
"Tony is bringing his amazing animal act to the Comedy Barn Theater," said David Fee, president and chief executive officer of the Fee/Hedrick Family Entertainment Group and co-owner of the Comedy Barn Theater.
"Tony is a phenomenal talent, and he has a unique family friendly act that combines his extraordinary pets with magic, acrobatics and audience participation. He has rescued most of these animals from shelters all over the country, and now they are Pigeon Forge stars.
"Come see Tony's mini pigs ham it up at the Comedy Barn," Fee said.  "These pigs can even check the mail!"
Pig stars Boris Bacon and Jessie Ham perform comedy, do flag rising, hurdle jumping, mail checking, ball playing, bell ringing, pig waltzing and they even roll out the red carpet!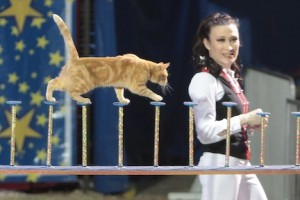 Ten high-diving housecats all perform in a comedy routine. They jump through hoops, zigzag, do a high-step routine, an Olympic pole balance, an upside down walk, super jumps and even a high-diving stunt.
"Is it a dogs world?" Fee said. "New at the Comedy Barn is an all-new Comedy Barn Canine act, where the dogs do hurdle jumps and barrel rolls, they roll over, they do a hind leg stand and even jump rope.  One dog thinks he is a pig, and he shows the pigs how to perform."
Charlie the communicating mini-donkey is another part of King's amazing animal act.
"Charlie is the only donkey in Pigeon Forge who understands humans," Fee said. "The audience can watch him shake his head yes or no to their questions. He can also add, subtract and even guess people's age.
"Come see birds flying through rings right over your head," Fee said.  Eight parrots have flown into the Comedy Barn.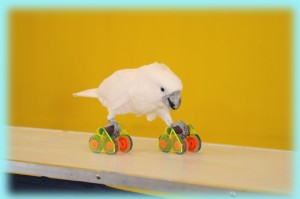 "The parrots do everything," Fee said. "They do comedy, skate, ride scooters and bicycles, go through roman rings, perform on the high wire, dance, pull carts, see-saw, do foot juggling, fly through rings and many other feats."
King is a former accomplished aerialist and high wire walker. In addition to performing animal acts and aerialist work, King is also a drummer and has done lighting, video and backstage work for many theater shows. His wife is a former aerialist and fire spinner.
"We were both entertainers, and we met at a flea market," Tony King said. "Her performing partner had broken her leg, and I ended up filling in. We are animal lovers. We will be performing all of these acts at the Comedy Barn on a rotating basis."
He and his wife and their pets live in the Walden's Creek area of Pigeon Forge. His wife is originally from Russia and attended circus school in Russia.
Now in its twentieth season, the multi-million dollar Comedy Barn Theater continues to make audiences roar with its nationally known, family-friendly comedians, ventriloquists, magicians, jugglers and musicians.
The Comedy Barn is proud that it has repeatedly been voted "Funniest Show in Town" by its fans 20 seasons in a row. And for 2014, the funniest show has gotten even funnier. This year brings some new cast and band members, new routines, new jokes and new country, gospel and patriotic music.
However, one thing that never changes is the laughter that fills the auditorium night after night as people from all over the country come to enjoy this magical, musical extravaganza.
Cast members include Danny Devaney, a graduate of the Ringling Brothers and Barnum & Bailey Clown College; Greg Franklin, a magician/comedian, who plays the country magician "Farmer Clem" and previously worked at the Carolina Nights Dinner Theater in Maggie Valley, N.C.; Stephen Knowles, an award-winning ventriloquist, comedian and man of many voices; and Eric Lambert, a comedian who has appeared on "David Letterman," "Showtime" and "An Evening at the Improv."
Musicians include Steve Curry and Ron Jeffery, members of the original Archie Campbell "Hee Haw" band, as well as drummer Buddy Cline and guitar player Clyde Foley Cummins.
"Our goal is to offer clean, family entertainment at a reasonable price. The main focus of our show is country comedy; however we have some pretty spectacular magic, juggling and music, too. This is a variety show that the whole family can enjoy. We combine laughter with lots of fun and talented performers to delight people of all ages," Fee said.
Open year round, the Comedy Barn has two shows nightly in season as well as some scheduled matinees for groups throughout the season. Toll-free 1-800-29 LAUGH or (865) 428-5222. Rates are $29.95, plus tax, and children 11 and under are $9.95, plus tax. For more information, visit www.comedybarn.com to get coupons and updates of the show.
#
Contact:
Deborah Fee Newsom
Director of Public Relations and Merchandising
Fee/Hedrick Family Entertainment Group
(865) 414-6887 (cell), (865) 774-8877