PIGEON FORGE, Tenn. (June 12, 2015) – The Hollywood Wax Museum Entertainment Center in Pigeon Forge has opened its newest thrill attraction Outbreak – Dread the Undead, according to Tej Sundher of Kuvera Partners.
The year-round haunted attraction joins the Hollywood Wax Museum, Hannah's Maze of Mirrors, and Castle of Chaos at the hilltop site on Showplace at Parkway.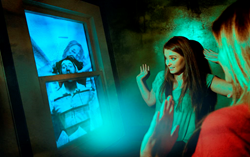 Outbreak offers a high energy, thrill-a-minute haunted walk-through experience filled with hordes of the undead. The adventure takes place in the laboratory of ChemaCorp, a global leader in biotechnology, medical research, and defense contracting, where guests will come face to face with a military experiment gone terribly wrong. Alpha Strain, a viral compound designed to enhance soldier DNA, has turned test subjects and the entire research staff into aggressive zombies that must be stopped.
"Outbreak sets a new milestone in haunted attractions," says Sundher. "The sets and scenes were created to be as authentic as possible. In addition to phenomenal live scares, we used next-generation animatronic characters, which are the first of their kind in this industry."
All of the hyper-realistic looking zombie characters have their movements randomized with unique body motions, allowing them to choose how they move each time they are triggered. This gives a more lifelike performance and ensures that the characters never quite move the same way twice.
Guests are bombarded with sights, sounds, fog, aerosol attacks and even smells that blur the lines between fiction and reality. The audio in Outbreak was composed by two Emmy-award-winning sound designers who have worked for more than 30 years in film and television. Five unique scents (hospital, haunted house, boiler room, rotting decay and campfire) are pumped into the attraction at key locations to make it all the more fun and creepy.
"We are extremely proud of the growth Pigeon Forge has experienced in the last few years, including the development of the Hollywood Wax Museum Entertainment Center," says Mayor David Wear. "To see a great company like Kuvera Partners continue to invest in local tourism and provide popular, high quality attractions is wonderful and definitely contributes to our success as a destination. We are excited to welcome Outbreak and can't wait to see how we fare against those zombies!"
The new attraction in Pigeon Forge builds upon Kuvera's success with its original Outbreak in Myrtle Beach, S.C., opened last June.
According to Sundher, "We've about doubled the square footage and added ten more scenes to the experience in Pigeon Forge. Its size and scope make it one of the largest and most technically-advanced, year-round haunted attractions in the country."
Outbreak will be included in the new All Access Pass, providing guests the opportunity to enjoy all four attractions for a discounted price. The facility is open 365 days a year from 9 am until late. For hours and additional information, visit Hollywood Wax Museum Entertainment Center.
ABOUT HOLLYWOOD WAX MUSEUM ENTERTAINMENT CENTER-PIGEON FORGE 
The Hollywood Wax Museum Entertainment Center is a multi-attraction landmark located in Pigeon Forge on Showplace Blvd. Four attractions make up the complex: Hollywood Wax Museum, 5D Castle of Chaos, Hannah's Maze of Mirrors and the new Outbreak. The two-story Hollywood Wax Museum is the largest in the country and includes a VIP Observation Deck offering extensive views of the Smoky Mountains. From playing with the stars at the interactive wax museum to scoring points for shooting rats and bats in a 5D theater, the Hollywood Entertainment Center draws guests of all ages into the worlds of movies, magic, fantasy and adventure.
ABOUT KUVERA PARTNERS 
Based in Los Angeles, Kuvera Partners is a privately-held corporation with interests in the attractions, self-storage and real estate industries. Founded in 1965, the company's history of success is the result of its ongoing research and continual development of resources and relationships.
#
Contact:
Aileen Stein
[email protected]
(805) 732-6372