PIGEON FORGE, Tenn. (February 2016) – Old Forge Distillery, located in Pigeon Forge, Tenn., took home two gold awards at the recent World Beverage Competition in Geneva, Switzerland. It is one of the largest spirits competitions, with more than 10,000 entrants. Judges awarded Old Forge Rum a gold in the "White Rum" category and 1830 Original Coffee Moonshine a gold in the "Flavored Specials Spirit" category.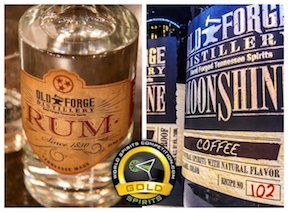 "We've always said we wanted to be more than just moonshine, so it's especially exciting to see Old Forge Rum receive top honors," said Head Distiller Keener Shanton. "We've recently installed a new still at Old Forge which will allow us to experiment even further with different types of spirits, so look for more innovative, award-winning products in the future."
Old Forge Rum is a 92-proof full-flavored white rum distilled from molasses with notes of spicy nutmeg, caramel and toffee.
1830 Original Coffee is a 60-proof coffee-flavored moonshine, inspired from coffee beans from the nearby Old Mill Restaurant and contains notes of espresso, sweet chocolate and dark cacao.
Both spirits are available for sale at the Old Forge Distillery and area Knoxville stores – Old Forge Rum for $27.99 and 1830 Original Coffee for $24.99.
About Old Forge Distillery
Just a few yards away from where the Old Mill head miller grinds, fills, and ties bags of stone-ground, quality grains lies the Old Forge Distillery. It's here, in a 100-year-old building made of Tennessee timber, that freshly ground grain is distilled with pure mountain spring water. In addition to its award-winning moonshine, Old Forge has released bourbon, vodka and rum. For more information on Old Forge Distillery (170 Old Mill Ave, Pigeon Forge, Tenn.) including tastings, products and recipes visit www.oldforgedistillery.com.
#
Contact:
Courtney Sandora
502-424-9406