PIGEON FORGE, Tenn. (Nov. 4, 2015) – Outdoor Gravity Park, one of Pigeon Forge's newest family fun attractions, is adding dry zorbing with a new invention called DRYGO.  There are only two locations in the world with DRYGO, New Zealand and Pigeon Forge.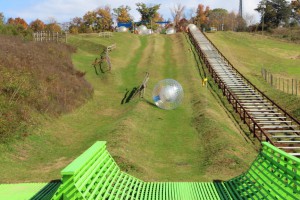 The DRYGO is made up of three plastic spheres, one inside the other. The largest one is 11 feet in diameter. The middle sphere contains a cushion of water, and the smallest sphere slides around on the water layer. One, two or three passengers make Superman-like dives into the inner sphere and stay totally dry as they roll down a steep 1,000-foot-long hill. The passengers slip and slide without any tumbling in their own little universe as the smallest sphere spins inside the middle sphere.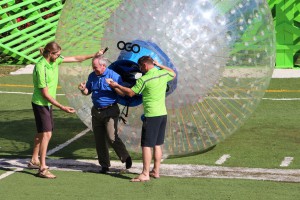 "The DRYGO is our latest invention. We will be offer dry zorbing — or as we sometimes call it, dry sliding — on colder days through fall and winter. We are excited to bring our invention from New Zealand to the United States so we can deliver a unique experience to our customers," said Chris Roberts, an owner and mechanical engineer.
Besides offering dry zorbing in the DRYGO, Outdoor Gravity Park will continue to offer its marquee attraction, H2OGO zorbing with warm water, where you slip, slide and get wet, still without any tumbling.
Outdoor Gravity Park is located on the former Zorb Smoky Mountains site, just off the Parkway in Pigeon Forge at Traffic Light #1. Head east for 0.4 miles to 203 Sugar Hollow Road. More information go online at www.OutdoorGravityPark.com, and visit us on Facebook.
 #
 Contact:
Courtney Allred: [email protected]
Megan Hazelwood: [email protected]
Outdoor Gravity Park
203 Sugar Hollow Road
Pigeon Forge, TN 37863
865-366-2687