24th annual salute to Great Smoky Mountains National Park scheduled Jan. 25-Feb. 1
PIGEON FORGE, Tenn. (January 2014) – Wilderness Wildlife Week, January's highlight event for Pigeon Forge Winterfest, is growing to 320 indoor programs and 55 hikes, excursions and tours into Great Smoky Mountains National Park.
It also is moving into a new home, the LeConte Center in Pigeon Forge, a $45 million special events facility in the heart of town.
The 24th annual Wilderness Wildlife Week is Jan. 25-Feb. 1. It is organized and presented by the City of Pigeon Forge, and admission is free to all activities.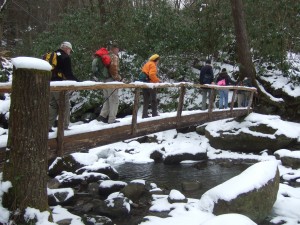 When Pigeon Forge launched Wilderness Wildlife Week, there were only four programs on a single Saturday afternoon. It now fills eight days.
"Wilderness Wildlife Week is one of our signature events. It is a time for people to learn about many aspects of the outdoor world, about the culture of the Southern Appalachians and about the people who make this area special," said Leon Downey, executive director of the Pigeon Forge Department of Tourism.
The week's indoor events include photography workshops, lectures, mountain music mini-concerts and demonstrations.
New for 2014 is a daylong series of programs about mountain trout, fly-fishing and fly-tying on Feb. 1. Southern Trout, an online magazine, lined up the experts for those presentations.
The week's outdoor activities include owl prowls, a photo trek in Cades Cove, a four-mile walk through the Elkmont historic district and a strenuous 11-mile hike to Mt. Cammerer. Round trip transportation to the hikes' trailheads is provided.
The lineup of programs is different every day.
Among them are "Southern Bears," "Taking Great Cell Phone Photos," "Wildflower Folklore," "Learn To Use Map and Compass," "Hosting Hummingbirds" and "Songs of the Carter Family."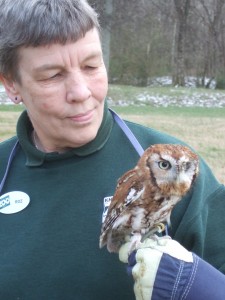 There are special programs for children, ones about the heritage of the Great Smoky Mountains and several devoted to improving your photography skills. Some of the region's top nature photographers lead the photo programs.
More than 200 experts – nature photographers, biologists, raptor rehabilitators, social historians, musicians and just plain folks who grew up in the Smokies – donate their time to lead Wilderness Wildlife Week programs.
"The week is extremely flexible. You can come just for one program, for one day or for the whole week," Downey said. "We have so many ways to connect you to our beautiful part of the country."
Wilderness Wildlife Week in 2013 drew people from 26 states, Washington, D.C., Australia, China and New Zealand.
Wilderness Wildlife Week, named 10 times as a Southeast Tourism Society Top 20 Event, is a part of Pigeon Forge Winterfest, which starts in November and goes through February.
Pigeon Forge completes Winterfest with Saddle Up, a celebration of cowboy poetry, western music and chuck wagon cooking, Feb. 19-23.
Wilderness Wildlife Week details, are at www.MyPigeonForge.com/wildlife. Information about all aspects of visiting Pigeon Forge is at www.MyPigeonForge.com or by calling 800-251-9100.
#
Contact:
Tom Adkinson, APR
615-341-8796