PIGEON FORGE, Tenn. (August 2015) – Wilderness Wildlife Week, Pigeon Forge's 25-year-old annual salute to Great Smoky Mountains National Park and an array of outdoor topics, is moving from January to May.
Dates for 2016 are May 18-22 (Wednesday through Sunday), with indoor programs at the LeConte Center at Pigeon Forge and outdoor activities nearby in the national park.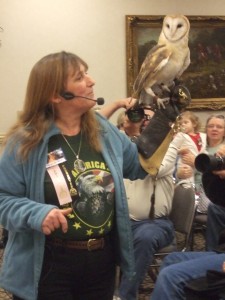 "Moving to spring opens the door to attract visitors who were reluctant to travel in winter. It also lets us introduce a variety of new programs," said Leon Downey, executive director of the Pigeon Forge Department of Tourism.
"We especially look forward to using Wilderness Wildlife Week to draw attention to the centennial year of the National Park Service. 'Find Your Park' is a big theme of the centennial celebration, and we're certainly going to help people get to know the Smokies better," he continued.
Wilderness Wildlife Week is a free event. Experts in numerous fields donate their time to deliver programs about wildlife, botany, nature photography, mountain crafts, Appalachian music and other topics.
Complementing those programs is a series of hikes in the national park. In the 11 years that hiking records have been kept, Wilderness Wildlife Week hikers have logged 3,631 miles on trails in the Smokies. Pigeon Forge provides hike leaders and transportation to and from the trailheads.
Wilderness Wildlife Week attracts people from throughout the U.S.  A voluntary sign-up sheet last January identified visitors from 28 states. The most distant were from Alaska, California, New York and Wyoming.
Wilderness Wildlife Week was inspired by local nature photographer Ken Jenkins, and his popular photography presentations remain on the week's schedule.
Information about all aspects of visiting Pigeon Forge is online at MyPigeonForge.com and by calling 800-251-9100.
#
Contact:
Tom Adkinson, APR
615-341-8796