PIGEON FORGE, Tenn. (May 2016) – Pigeon Forge, a gateway to Great Smoky Mountains National Park, has a new way to celebrate spring. It's a five-day event saluting the national park, Mother Nature and the culture of the southern Appalachians.
It is Wilderness Wildlife Week from May 18-22, and it's new as a springtime event after 25 years as part of Pigeon Forge Winterfest.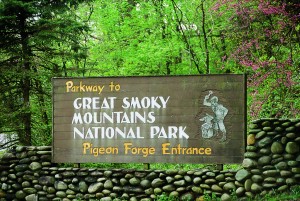 You can learn about bears and trout, hone your nature photography skills, join a celebration of gospel singing, discover your artistic side, and even meet President Franklin Roosevelt – all for free. There are more than 250 programs at the LeConte Center at Pigeon Forge plus 40 hikes, field trips and excursions into the national park and surrounding areas.
Event manager Butch Helton said 2016 is special because this is the centennial year of the National Park Service, and Great Smoky Mountains National Park is the system's most visited park. More than 10 million guests visit the 800-square-mile park every year
"We're going to do our part to help more people understand and be active in our treasured neighbor," Helton said.
President Roosevelt appears courtesy of actor Gary Stamm. Stamm's keynote program on May 18, "A Fireside Chat with FDR: Celebrating a Century of the National Park Service," will recall Roosevelt's dedication of Great Smoky Mountains National Park in 1940.
An array of programs fills all five days. Among the topics:
900 Miles and Then Some: A Hiking Journal
Logging Railroads of the Smokies
Waterfalls of the Southern Appalachians
Turn Your Photography into Art
Recording the Smokies: An Audio Journal
Leave No Trace: Principles of Outdoor Ethics
Fly Fishing the Smokies
Bears in the Back Seat
Painting the Smokies
Moonshine: The Past, Present and Future
A Miller's Life (about the historic Old Mill in Pigeon Forge)
Birds of Prey Live Bird Show
The Art of Dowsing: Do You Have the Gift?
Gospel Music of the Smokies
Experts in numerous fields donate their time to deliver programs. Among them are current and retired National Park Service rangers, wildlife experts, artists, local historians and musicians.
In addition to FDR, evening programs include "Heaven and Nature Sing," a presentation from Wilderness Wildlife Week creator Ken Jenkins; Dr. Bill Bass about the University of Tennessee's famous "Body Farm"; and "Tales From Lost," recollections from retired backcountry ranger Dwight McCarter about searches for people lost in the wilderness.
Hikes in the national park utilize numerous trails with various degrees of difficulty, and the excursions include a visit to the American Eagle Foundation's research and rehabilitation facility at Dollywood.
On May 21, the first Appalachian Homecoming is planned at Patriot Park. This is a celebration of music, storytelling, children's games and antique tractors. The Cades Cove Preservation Association will have a fundraising picnic, capped at 200 dinners, in conjunction with the event.
Wilderness Wildlife Week attracts people from throughout the U.S.  A voluntary sign-up sheet in 2015 identified visitors from 28 states. The most distant were from Alaska, California, New York and Wyoming.
Information about all aspects of visiting Pigeon Forge is online at MyPigeonForge.com and by calling 800-251-9100.
#
Contact:
Tom Adkinson, APR
615-341-8796