PIGEON FORGE, Tenn. (October 2014) – Preparations are underway for the 25th presentation of Wilderness Wildlife Week, Pigeon Forge's annual salute to Great Smoky Mountains National Park and numerous outdoor recreation topics. Dates are Jan. 24-31, 2015.
East Tennessee wildlife photographer Ken Jenkins had no idea his suggestion for a winter program about the Great Smoky Mountains would become a much-loved winter event that draws visitors from across the U.S.
The first year of what became Wilderness Wildlife Week was a half-day of programs on a Saturday. It was so successful that it blossomed into a weeklong event in its second year.
It now features 400 programs spread over eight days, including a series of hikes and excursions in Great Smoky Mountains National Park.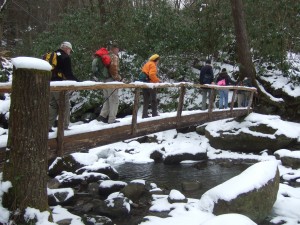 Wilderness Wildlife Week 2014 had attendees from 41 states. Hawaii wasn't represented, but Alaska was, event organizers noted.
Total program attendance was 27,800, and almost 550 hikers logged 2,588 miles. New for 2014 was the Southern Trout Fly Fishing Fair, a day of programs about mountain trout, fly-fishing and fly-tying put on by the online magazine Southern Trout, an online magazine. The second Southern Trout Fly Fishing Fair is set for Jan. 31.
Each year offers photography workshops, wildlife lectures, mountain music mini-concerts, crafts classes and special sessions for children.
More than 200 experts – nature photographers, biologists, raptor rehabilitators, social historians, musicians and just plain folks who grew up in the Smokies – donate their time to lead the programs.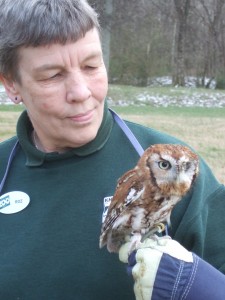 The Pigeon Forge Department of Tourism organizes the week, and admission is free. Most of the events are indoors at the LeConte Center at Pigeon Forge, a city-owned special events facility.
Wilderness Wildlife Week, named 10 times as a Southeast Tourism Society Top 20 Event, is a part of Pigeon Forge Winterfest, which starts in November and goes through February.
Pigeon Forge completes Winterfest with Saddle Up, a celebration of cowboy poetry, western music and chuck wagon cooking, Feb. 18-22.
Information about all aspects of visiting Pigeon Forge is at www.MyPigeonForge.com or by calling 800-251-9100.
#
Contact:
Tom Adkinson, APR
615-341-8796