PIGEON FORGE, Tenn. (August 2015) — Ripken Baseball has named David Bounds the General Manager for The Ripken Experience Pigeon Forge youth baseball complex. With nearly a decade of experience as an employee for Ripken Baseball, Bounds has contributed to the brand's growth at both The Ripken Experience Aberdeen and Myrtle Beach locations.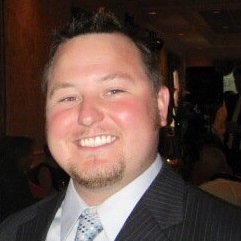 "I have been fortunate to have the opportunity to combine my love of baseball and my business acumen towards making a positive impact at Ripken Baseball, as well as with thousands of youth baseball players, coaches and families we serve," said Bounds. "I look forward to bringing the Ripken Way to the Pigeon Forge community."
As the General Manager of The Ripken Experience Pigeon Forge, Bounds will be responsible for providing oversight and leadership for the $22.5 million facility, as well as supervising the complex's tournaments, camps, specialty programs, staffing and operations. Bounds started his career with Ripken Baseball as a tournament official and camp instructor at The Ripken Experience Myrtle Beach, followed by a four-year tenure at The Ripken Experience Aberdeen Powered by Under Armour complex in Maryland where he served in a variety of roles within its Operations Department, including Director of Youth Programming. In 2014, Bounds made the move back to his home state of South Carolina to take on the role of Assistant General Manager at The Ripken Experience Myrtle Beach. Bounds is a graduate of Francis Marion University in Florence, South Carolina, where he received a bachelor's degree in business and was a four-year collegiate baseball player.
"David has been an integral part of the continued growth and success of our youth baseball operations," said Glenn Valis, Vice President of Quality Control & Managed Relationships for Ripken Baseball. "His managerial and leadership qualities exemplify what our team was looking for in a General Manager. We believe in his ability to help take the Pigeon Forge complex to the next level as a premier youth sports destination."
The City of Pigeon Forge signed a 10-year contract with Ripken Baseball to market and manage the complex, which will host world-class youth baseball tournaments nine months of the year, and offer year-round branded programming, including events. The Ripken Experience Pigeon Forge looks out onto the Great Smoky Mountains and features six lighted, synthetic turf fields, as well as a two-level clubhouse with more than 14,000 square feet, a 2,749-square-foot concession/restroom building with an adjacent pavilion. Each field borrows its design from well-known professional ballparks, including Oriole Park at Camden Yards (Baltimore, Maryland), Isotopes Stadium (Albuquerque, New Mexico), and Engel Stadium (Chattanooga, Tennessee). After breaking ground on the complex in 2014, Opening Day at The Ripken Experience Pigeon Forge is planned for Spring 2016. Weeklong tournaments are currently on sale at www.ripkenbaseball.com.
About Ripken Baseball
The mission of Ripken Baseball is to inspire athletes through remarkable experiences. Ripken Baseball currently owns and operates multiple Minor League Baseball teams and plays host to numerous youth tournaments, camps and clinics at The Ripken Experience Aberdeen powered by Under Armour baseball complex in Maryland, The Ripken Experience Myrtle Beach in South Carolina, and The Ripken Experience Pigeon Forge in Tennessee, which is set to open in Spring 2016.