Salute to cowboy music, poetry, cooking notches 14th year
PIGEON FORGE, Tenn. (March 2013) – Visitors from at least 22 states attended Saddle Up, a cowboy culture special event that Pigeon Forge organizes as its last major component of Pigeon Forge Winterfest.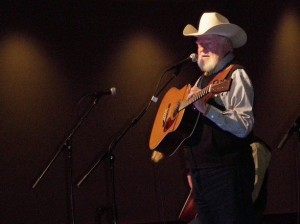 The five-day celebration in late February featured concerts by top cowboy and cowgirl musicians and poets, a chuck wagon cookoff and other western-themed activities. The event, now 14 years old, has been named a Top 20 Event in the Southeast by the Southeast Tourism Society.
"Saddle Up had two major accomplishments – it entertained people royally, and it attracted visitors from a wide area, including from states not usually in our visitor data, especially in winter," said Leon Downey, executive director of the Pigeon Forge Department of Tourism.
Visitors came from as far away as Texas, Oklahoma, Iowa, Idaho and Massachusetts, Downey reported, in addition to Pigeon Forge's usual market area of states in the Southeast, mid-Atlantic and Midwest.
"I spoke to one gentleman at the chuck wagon cookoff who had made the trip from Raleigh just because he'd seen a TV feature about chuck wagon cooking and searched for the closest one to him," Downey said.
Most Saddle Up events in 2014 were in the new LeConte Center at Pigeon Forge, and event organizers were pleased with the venue.
"We had two small-scale dinner shows that we called 'Intimate Evenings' and multiple large-scale concerts. All worked well, and our guests and performers were pleased," said Butch Helton, special events manager for the tourism department.
Performers this year were Don Edwards, Red Steagall and the Boys in the Bunkhouse, Hot Club of Cowtown, Belinda Gail, Andy Nelson, Ray Doyle, T. Scot Wilburn and the Shut Up -N- Playboys, and Joyce Woodson.
Helton said discussions already are underway for the 2015 lineup.
Pigeon Forge's next city-sponsored special event is Dolly's Homecoming Parade, a salute to Dolly Parton, on May 2.
 #
Contact:
Tom Adkinson, APR
615-341-8796