PIGEON FORGE, Tenn. (October 2014) – In a move designed to bring a taste of Las Vegas to East Tennessee, The Smoky Mountain Opry Theater in Pigeon Forge has signed nationally known star magician Darren Romeo, "the Voice of Magic," to a multi-year, multi-million production beginning March 7, 2015.
Romeo, a magician and a singer, will bring his critically acclaimed full-scale production "Magic Beyond Belief" to the stage. The new show features white tigers, large-scale original illusions, vocal performances, celebrity impersonations, comedy and a huge tribute to the magicians who inspired him the most, mentors Siegfried and Roy and Harry Blackstone Jr.
In addition to worldwide touring, Romeo starred in his own show as "Siegfried & Roy presents, Darren Romeo" at the Mirage Resort Hotel and Casino. He has also performed in Las Vegas at Caesars Palace and the Flamingo Hilton and at the world famous Magic Castle in Hollywood to name but a few.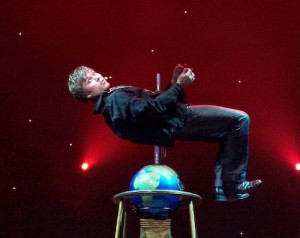 "Magic is my passion, and The Smoky Mountain Opry Theater is one of the most beautiful theaters I've ever seen. I will be able to present the biggest and best version of my show ever. And with majestic tigers, I hope to honor and celebrate the legacy of Siegfried and Roy," Romeo said.
One of the most awarded magicians in the history of magic, Romeo has garnered an extensive list of accolades including: "Magician of the Year" from the Magic Castle, the Academy of Magical Arts, Inc., "Show of the Year" (two years in a row) from the Branson Critic Association and the "Milbourne Christopher Award for Notable Contributions to the Art of Magic" from the Society of American Magicians (SAM).
Recognizing the historical importance the "art of magic" has had throughout the centuries, Romeo will honor Harry Blackstone Jr.'s legacy by performing his famous "Floating Light Bulb" illusion – the only magician in the world granted permission from the Blackstone family to perform this full tribute.
"Pigeon Forge has a new star! We are thrilled to have Darren join us at The Smoky Mountain Opry Theater. As a former magician, I can tell you he has one of the best magic shows on planet Earth," said David Fee, president of The Fee/Hedrick Family Entertainment Group.
The New York Daily News called Romeo's show "Irresistible," and the Las Vegas Review-Journal said it was "the most unique and compelling show to hit the strip in many years," while Entertainment Today said his show was "Extraordinary. Fantastic!"
For more information, call the theater's box office (865) 428-7469 or 1-800-768-1170, or visit www.PigeonForgeMagic.com.
#
Contacts:
National Media:
 Lobeline Communications
Phil Lobel, 310-271-1551 ext 13 
[email protected]
Theater Media: 
Deborah Newsom, 865-774-8877 or 865-414-6887 (cell)
 [email protected]
MEDIA NOTE: High-resolution images are at www.PigeonForgeMagic.com/Media