PIGEON FORGE, Tenn. (July 2014) – The Smoky Mountain Opry, the largest stage production in the Smokies, has a brand new production show with new acts and new songs for this season.
The show begins with an electrifying opening with a laser light show and then the entrance of several featured singer/dancers descending on the stage in illuminated boxes.
The show blends new performances from the theater's entertainment team with lots of new special effects. Highlights include a new country section with hot country chart toppers, an entire Broadway segment with lots of new songs, a circus and magic section and brand new instrumental, patriotic and inspiration/gospel music.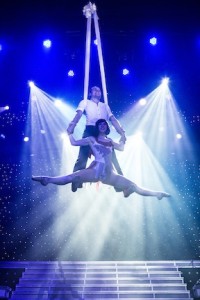 There is also a live band, led by new bandleader, Johnny Hodges, a trumpet player and former musician on Carnival Cruise Lines. The newest addition to the Smoky Mountain Opry Show is soulful singer Curtis "CJ" Jefferson, former musical director, vocal couch and lead vocalist for the "Soul of Motown" at the Grand Majestic Theater in Pigeon Forge.
A recent addition to the show is Greg Stout, who has performed at several local venues including the Smith Family Dinner Theater and the Hazzard County Hoedown. Stout has gained a big local following with hundreds of members from his fan club returning to the show week after week to see him perform.
Returning to the show is a former member of the Russian National Theater Dance Group, a former Rockette, a Las Vegas silk aerialist, a famous juggler, a well-known magician and live exotic animals.
On the vocal side, returning for the show this season are powerhouses Lakieta Bagwell (who has sung with Dolly Parton and her brother Randy and sister Rachel, with Lee Greenwood, and at many venues including Dollywood, Southern Nights, the American Music theater and the Grand Ole Opry), and Kendal Manning from the Smith Theater and American Jukebox Show.
Also returning are master of ceremonies and powerful country crooner T.C. Barnette (formerly of Dollywood) and his country/gospel vocalist wife, Jessie (formerly of Dollywood and Smith Family Dinner Theater).
"This fabulous, high-energy show tugs on people's heart strings," said David Fee, president and chief executive officer of the Fee/Hedrick Family Entertainment Group.
"We have the most elaborate and largest cast of dancers and musicians in the Smokies," Fee said. "It is two hours of non-stop wow, with lasers and many special effects."
Manning performs a heartwarming rendition of 'Memory' from the Broadway production of "Cats."  Bagwell performs an unforgettable, dynamic rendition of "My Heart Will Go On" from "Titanic" and a vibrant performance of "I Will Always Love You."
Featured in the show is the juggling artistry and comedy of David Hirschi, better known by his stage name of "Slim Chance."
Slim is a sophisticated, juggling hillbilly with an off-beat sense of humor.  He juggles a bowling ball, a rubber chicken, a Ping Pong ball, saw blades and many other items in his act, with lots of audience interaction. He previously performed in Las Vegas and in Branson, Mo.
There is also magic by famed magician Michael Keating, who worked with David Copperfield for six years. The magic section features Keating and Manning and a series of fast-paced illusions that keeps the audience on the edge of their seats. The magic segment finishes with a woman who is transformed into a Bengal tiger.
In addition, the show features the high-flying silk aerialists Leann Farley and Simmone Gruzdev. Farley has been performing since the age of 15 in Las Vegas, as well as all over the globe. Gruzdev graduated from one of the most prestigious dance academies in Russia and was a member of the Russian National Theater Dance Group.
"Audiences have grown accustomed to seeing Leann and Simmone fly through the air, but now in addition to their aerial act, they have a new act in the show where their feet never leave the ground," Fee said.  "After months of training, they have a new quick change act where you barely blink and Leeann has changed costumes!"
Multi-talented husband and wife Lucinda and Mario Morin are featured adage dancers in the show, and Mario does some comedy as "Maynard, the maintenance man" as well.
Lucinda previously worked in shows in Myrtle Beach, S.C., Lancaster, Pa., Savannah, Ga., Los Angeles, and San Antonio, Texas, in addition to working on many cruise ships. She is also a former member of the Rockettes precision dance company.
There are many live animals in the new Smoky Mountain Opry show, including a horse, a dog and two serval cats. A special guest performer is Tsimba-Vaati, a 500-pound, 8-year-old rare male white lion, one of only 300 in existence in the world today.
The show also features Hollywood, a 600-pound, 8-year-old white tiger, and Rajah, a 350-pound, 14-year-old gold Bengal tiger, whose name means "great king."  They can be seen on stage during the show's dazzling Tribute to Broadway "Circle of Life" scene and in the magic section of the show.
Featured songs in the show include "I Got a Feeling," "Mountain Music," "She's Country," "My Kind of Night," "Shake It For Me," "Don't You Wanna Stay," "Islands in the Stream," "Ring of Fire," "Rhinestone Cowboy," "My Way" and many others.
"We are confident that this is going to be our best year yet, and we hope you will bring the whole family and join us for our outstanding new show with a whole range of different performers and incredible talent," Fee said. "This show is a special show-of-a-lifetime. It has it all — from comedy to heart stopping aerialists, to graceful and skillful dancers and fabulous singers.
"Calling this show amazing is quite the understatement," said Fee. "Your whole family will be spellbound with the incredible and prestigious artists who perform in our show. We have fantastic juggling, circus animals and magic, as well as great music. There is nowhere in Pigeon Forge that can you find a better entertainment value."
The Smoky Mountain Opry opened in November 2011 and is a Fee/Hedrick Family Entertainment production. It is located at 2046 Parkway in Pigeon Forge. Ticket are $39.95 plus tax for adults and $9.95 plus tax for children ages 3 to 11. For more information, visit http://www.smokymtnopry.com/ or call 1-800-768-1170 or (865) 428-SHOW (7469).
The Fee/Hedrick Family Entertainment Group, one of the largest show production companies in the Southeast, also owns and produces four other major shows in the Smoky Mountain area, including  "The Comedy Barn®," the "Comedy Critters Pet Show," the "Hatfield and McCoy Dinner Show" and the "Blackwoods Morning Variety Show" featuring the Blackwoods.
The Fee/Hedrick Family Entertainment Group is currently running a special combination show deal that offers customers a chance to buy a ticket to the Hatfield and McCoy Dinner Show for $49.95 plus tax, and then, for just $15 plus tax, they can purchase a ticket to the "Smoky Mountain Opry," "The Comedy Barn®," "The Comedy Critters Pet Show" or "The Blackwoods Morning Variety Show." The company also owns Happy Days Diner and a website, http://www.seepigeonforge.com/,that helps guests plan their entire Smoky Mountain experience online.
(Group rates are available for groups of 20 or more, and with the purchase of a combination show ticket, children 11 and under are free for the second show.)
#
 Media contact:
Deborah Fee Newsom
Director of Public Relations and Merchandising
Fee/Hedrick Family Entertainment Group
119 Music Road,
Pigeon Forge, TN 37863
(865) 414-6887 (cell), (865) 774-8877