PIGEON FORGE, Tenn. (March 2016) – After a winter hiatus, the Smoky Mountain Opry Theater in Pigeon Forge, Tenn., has kicked off its sixth season of entertainment extravaganza. The unique 2016 "Smoky Mountain Opry" Show is a one-of-a-kind ultimate variety show that features music from classic country to yesterday's 60s, a little Motown, best of Broadway and some patriotic and gospel/inspirational numbers. The show features new acts and new songs and runs six nights a week through Oct. 29, 2016. The popular "Christmas at the Smoky Mountain Opry" show will run in November and December. 
The spectacular "Smoky Mountain Opry" Show in the 1400-seat Smoky Mountain Opry Theater is known for its diverse musical variety acts and special effects such as lasers, pyrotechnics, flying musicians, water elements, giant video screens and live exotic animals.  David Fee, co-owner of the theater and executive producer, along with David Horton, a freelance consultant, produced and directed the 2016 production.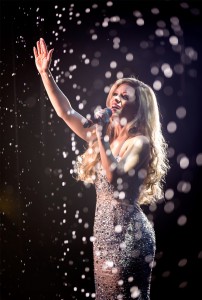 This year's "Smoky Mountain Opry" production showcases the talents of nationally known singers, dancers, musicians, aerial artists and a comedic juggler. Hosted by T.C. Barnette, the show is the largest production show in the Smokies.  One of the shows unique elements is a 500-pound, 10-year-old rare white lion, named Tsimba-Vaati, one of only 300 in existence in the world today.
"'The Smoky Mountain Opry' Show in Pigeon Forge this year is even bigger and more spectacular than before," said David Fee, president and chief executive officer of Fee/Hedrick Family Entertainment Group.  "We are featuring sensational story-driven songs. We have many new songs, and we have brought back some audience favorites as well and have refreshed them with different staging and musical arrangements to create exciting new pieces. We have amazing performers from around the world who light up the stage including a daring aerial act. We have singing, dancing, lots of laughter, two tigers, a white lion and great music!"
The show feature songs made famous by Marty Robbins, Carrie Underwood, Nat King Cole, the Beatles, Mel McDaniel, Charlie Daniels, the Temptations, Creedence Clearwater Revival, The Eagles and many others. There is a live band, led by bandleader Johnny Hodges, a trumpet player and former musical director on Carnival Cruise Lines.
New to the show this year is singer Charlie Bob Smith and singer/dancers Luke Sanderford and Penny Gold, and dancer Romero Patterson. Smith, well known as the man of a thousand voices, was winner of The Mountain Press Readers s Choice Award seven times and "Entertainer of the Year" in 2009.
Patterson began his formal training at the Alvin Ailey American Dance Theater in New York, N.Y., when he was 18.  He trained in ballet, contemporary, tap and West African dance and graduated from the Ailey School certificate program before attending a program at the Joffrey Ballet. He previously had dancing roles at Walt Disney World.
Sanderford, of Greensboro/Winston-Salem, N.C., previously was a professional dancer and aerialist for Royal Caribbean International and an entertainer with Matt Davenport Productions.
Gold, hailing from England, has appeared on stages around the world. She trained in both dance and vocals at Tamworth Academy and won a national talent competition on the BBC.  For more than 12 years, she was a vocalist for Carnival Cruise Lines, many of those in her own featured show.
Returning to the show is the juggling artistry and comedy of David Hirschi, better known by his stage name of "Slim Chance."  Slim is a sophisticated, juggling hillbilly with an offbeat sense of humor. He juggles a bowling ball, a rubber chicken, a Ping Pong ball, saw blades and many other items in his act, with lots of audience interaction. He previously performed in Las Vegas and in Branson, Mo.
In addition, the show features the returning act of high-flying silk aerialists Leann Farley and Semyon Gruzdev. Farley has been performing since the age of 15 in Las Vegas, as well as all over the globe. Gruzdev graduated from one of the most prestigious dance academies in Russia and was a member of the Russian National Theater Dance Group.
"Audiences are always amazed to see Leann and Semyon fly through the air, but they also love their quick-change act where you barely blink and they have changed costumes," Fee said. "If you saw the Smoky Mountain Opry last year, you will want to rush back to see our new show. And if you missed it last year, don't miss your opportunity this season!"
Other cast members include Summer Collins, Amanda Russell, Liz Sambol, Rocky-Jay Bowyer, Hugh Warren, Anthony Bailey, Scott Johnson, Marissa Haye, and Kendal McKay Manning. The choreographer is Brandy Bailey, and the assistant choreographer is Michael "Beetle" Bailey. Lighting design is by Marshall Whaley, and costume design for this season is by Sunny Ware.
The show runs at 8 p.m. Monday through Saturday, with occasional Sunday evening shows.  It also runs at 3 p.m. on Wednesdays starting March 9. The Smoky Mountain Opry opened in November 2011 and is a Fee/Hedrick Family Entertainment Production. It is located at 2046 Parkway in Pigeon Forge. Ticket prices are $44.95 plus tax for adults and $19.95 plus tax for children ages 3 to 11. For more information, visit http://www.smokymtnopry.com/ or call 1-800-768-1170 or (865) 428-SHOW (7469).
In the Dec. 2014 edition of "Southern Living" magazine, the Smoky Mountain Opry was named the "Don't Miss Variety Show" in Pigeon Forge. It was also awarded the Trip Advisor Certificate of Excellence for having a 5-star average rating on their site, making the "Smoky Mountain Opry" show one of the top-performing 10 percent of businesses worldwide on Trip Advisor.
The Fee/Hedrick Family Entertainment Group, one of the largest show production companies in the Southeast, is now in its 21st season. The company also owns and produces other major shows in the Smoky Mountain area including  "The Comedy Barn" Theater, The "Hatfield and McCoy Dinner Show," and "Magic Beyond Belief" starring Darren Romeo.
Fee/Hedrick offers a combination show deal for only $19.95 plus tax for adult tickets to "The Smoky Mountain Opry" when guests buy a ticket to the "Hatfield and McCoy Dinner Show" for $54.95 plus tax. With this combo deal, children are $19.95 plus tax to the "The Smoky Mountain Opry" (one child per paying adult). The company also owns Happy Days Diner restaurant, Chef's Catering and a website, seepigeonforge.com, that assists visitors in planning their entire Smoky Mountain experience online.
#
CONTACT:
Deborah Fee Newsom
(865) 414-6887 or (865) 774-8877