PIGEON FORGE, Tenn. (Sept. 8, 2014) – The attention of the Southern gospel music industry will be on Pigeon Forge, Tenn., from Sept. 21-27 when hundreds of performers and upwards of 40,000 fans unite for the National Quartet Convention (NQC).
"When the first song is sung in Pigeon Forge, the NQC will open another chapter in its long history because it will mark our return to the state where we started almost 60 years ago," said Clarke Beasley, executive vice president.
J.D. Sumner, a gospel music legend and former backup singer for Elvis Presley, founded the NQC in 1957 in Memphis, co-producing it with James Blackwood. It later moved to Nashville and has been in Louisville, Ky., for 20 years.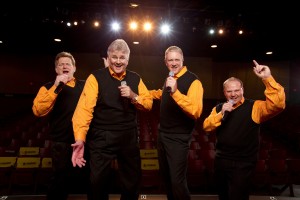 Its Pigeon Forge home is the LeConte Center at Pigeon Forge, a $45 million special events facility that opened in 2013. The center's primary space will be configured for nearly 12,000 seats for the NQC, with no seat more than 150 feet from the stage.
Featured artists are a "Who's Who" of Southern gospel music, and nightly concerts feature up to 20 acts. Among them are the Booth Brothers, Greater Vision, the Hoppers, the Kingdom Heirs, Triumphant and the Collingsworth Family, as well as prominent soloists such as Guy Penrod and Grammy Award winner Jason Crabb.
Special events during the week include the Singing News Fan Awards, a fan-voted program of Singing News Magazine, on Sept. 25, the keynote address by Dr. David Jeremiah on Sept. 26, the Cathedrals' Family Reunion featuring several alumni of gospel's most celebrated group and a 5K run on Sept. 27 that benefits the Southern Gospel Music Hall of Fame and Museum, which is located in Pigeon Forge at the Dollywood theme park.
"The NQC is the biggest prolonged group event in Pigeon Forge's history, and everyone in the tourism and hospitality industry is geared up and ready," said Leon Downey, executive director of the Pigeon Forge Department of Tourism.
The NQC already has booked a return to Pigeon Forge and the LeConte Event Center. Dates are Sept. 27-Oct. 3, 2015.
Admission information for 2014 concerts is available online at nqconline.com, by calling toll-free 800-846-8499 and at the door.
Visitor information about Pigeon Forge is available online at MyPigeonForge.com and by calling 800-251-9100.
#
Contact:
Tom Adkinson, APR
615-341-8796