PIGEON FORGE, Tenn. (April 2015) – To commemorate the landmark 20th anniversary of The Comedy Barn Theater, in Pigeon Forge, Tenn., the Tennessee Legislature declared April 28, 2015, Clean Comedy Day in the Volunteer State, encouraging all Tennesseans to join them in recognizing the importance of clean family comedy.
The proclamation was sponsored by Senators Overbey and Southerland as well as Representatives Swann and Ramsey and was signed by Governor Bill Haslam.
The proclamation cites that the Fee/Hedrick Family Entertainment Group, owned by local businessmen David Fee and Jim Hedrick, was one of the first entrepreneurial clean comedy Pigeon Forge entertainment companies launched 20 years ago on April 28, 1995; and over the last 20 years the Fee/Hedrick Family Entertainment Group has subsequently launched and produced many different shows in various family themes and genres beginning with The Comedy Barn . . . and all fit for family members of all ages.
"We are the most successful and most attended clean comedy theater in the world," said Comedy Barn Theater co-owner and company chief executive officer, David Fee.
"We attribute the success of the entire Fee/Hedrick Family Entertainment Group to a long-term strategy of operating the longest running clean comedy theater in the world. Times have changed, but people always need a laugh, and we are still the funniest show in town.   Our concept was groundbreaking in an era when successful comedy was not intended for a family audience. I knew we had a winner with clean family comedy when I would see children outside of the Comedy Barn Theater pouting to their parents because they could not get into our show because we were sold out."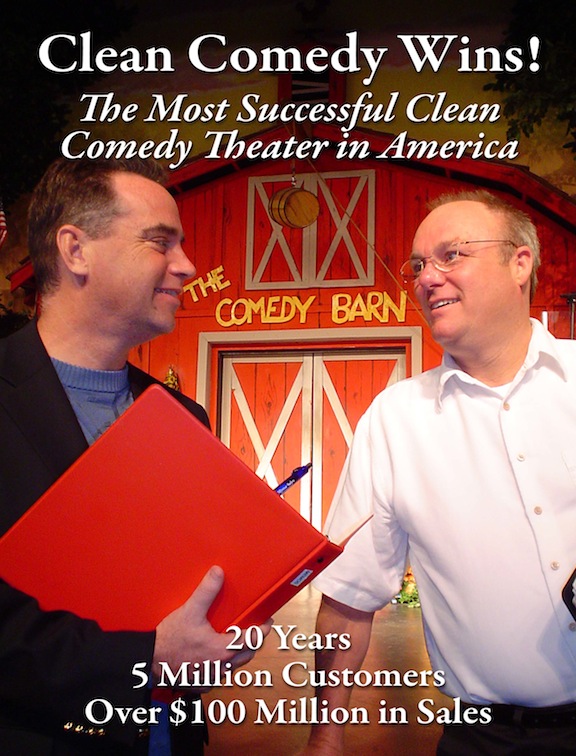 The show can still be seen nightly at the Comedy Barn Theater at 2775 Parkway, Pigeon Forge, near Great Smoky Mountains National Park. The Comedy Barn Theater has many special events planned throughout the year, including the World's Largest Shaving Cream Pie Fight scheduled for June 16t in front of the Comedy Barn Theater in an attempt to break the Guinness World Record. The pie fight is open to the public, and details are posted on the Comedy Barn web site http://comedybarn.com/piefight.
Entertainers Fee and Hedrick had plenty of reasons to be nervous when they debuted "The Comedy Barn Show." Opening a "clean" family-friendly comedy theater, which meant there were no swear words, or anything derogatory in the act, was against the comedy club nightclub mainstream performances of the time. "Would anyone come to a clean comedy family show where no alcohol was served?" they wondered.
The show was an initial success with overflow crowds. In 1996, Fee and Hedrick had the original 200-seat Comedy Barn Theater (which was formerly the Archie Campbell Hee Haw Theater) torn down and constructed an iconic locator, the current barn-shaped 800-seat Comedy Barn Theater on the same land along the Parkway.
The renovations led to lots of challenges though, when a contractor took all their money and left them with just a hole in the ground and some steel beams. Thanks to help from Fee's parents and the local Citizen's National Bank, the new Comedy Barn Theater was completed on Dec. 19, 1996, and has been a mainstay of clean comedy for the past two decades. The theater's attendance over the past 20 years is approaching 5 million patrons, and it has truly stood the test of time and become a landmark icon in Pigeon Forge.
"The pundits love to say clean comedy cannot be successful in today's world, but 5 million customers proved them wrong," said Fee proudly.  "Clean Comedy Wins! Twenty years later the Comedy Barn Theater is still going strong and attracting new audiences."
Fee, a former magician, and Hedrick, a former juggler, were performers in the show for several seasons. Today, the Comedy Barn Theater is open year-round and features a fast-paced variety show that includes award-winning jugglers, ventriloquists, comedians, trained animal acts, music, magic, audience participation skits and much more. The Comedy Barn Theater is one of the most established, recognizable clean comedy theaters in the world providing high-level comedic entertainment.
For the many visitors who travel to Pigeon Forge, yhe Comedy Barn Theater has created a dynamic and fun show that appeals equally to both young and old audiences. Comedy Barn Theater's co-owner Jim Hedrick, states, "We are convinced that the Comedy Barn Theater's success, and our large number of return customers, is due to the peace of mind that families who attend our shows have, knowing that they will laugh, be thoroughly entertained, and never have to worry about anything inappropriate happening on our stage. Every show is different because the audience participation skits are always hilariously unpredictable.
"Clean comedy can really bring people together and let them have a good time," he said. "Parents, children and even grandparents all enjoy our show because it is refreshingly wholesome."
For additional information go to http://www.comedybarn.com/, the Comedy Barn Facebook Page or call the ticket office at 1-800-29-Laugh or (865) 428-5222.
Guests can search for a You Tube video on the Internet called "Dad at the Comedy Barn" that showcases Eric Lambert, one of the comedians at the Comedy Barn that has received over 25 million hits.  https://www.youtube.com/watch?v=Z4Y4keqTV6w
Fee and Hedrick are no longer nervous about their clean comedy venture. They now proudly own a company dedicated to clean family fun. The legislature's proclamation cited the Fee/Hedrick Family Entertainment Group's provision of jobs, services and benefits afforded the County of Sevier in Tennessee. It also recognized that the Fee/Hedrick Company has contributed to the economic foundation of the community and to the betterment of a year-round stable workforce in the face of the previous local seasonal-employment model and therefore played a distinct, critical role in addressing the employment needs of Sevier County while serving as a destination for tourists regionally and internationally.
Twenty years later, Fee and Hedrick are still juggling, only now they are juggling three theaters, ten shows, a catering company, a restaurant and a vacation website company instead of just juggling onstage at the Comedy Barn Theater, where it all began.  Venues include  "The Comedy Barn," http://www.comedybarn.com/, The Hatfield and McCoy Dinner Show," http://www.hatfieldmccoydinnerfeud.com/,"The Smoky Mountain Opry," http://www.smokymtnopry.com/, "Magic Beyond Belief," http://www.pigeonforgemagic.com/ starring Darren Romeo, "The Blackwoods Morning Show," http://www.smokymtnopry.com/shows/blackwoods-morning-variety-show, The Comedy Critters Pet Show, http://www.comedybarn.com/pigeon-forge-show/comedy-critters-pet-show, four Christmas shows, Happy Days Diner, Chef's Catering, http://www.pigeonforgecatering.com/ and SeePigeon Forge.com http://www.seepigeonforge.com/.
#
CONTACT:
Deborah Fee Newsom
(865) 414-6887 (cell) or (865) 774-8877