PIGEON FORGE, Tenn. (June 2016) – The first three months of youth baseball tournaments at the Ripken Experience Pigeon Forge have been everything the city expected – and perhaps more.
"Baseball lives on statistics, and the numbers coming out of the Ripken Experience are awesome. Visitor spending of $6.7 million in Pigeon Forge is simply wonderful," said Eric Brackins, Pigeon Forge assistant city manager, who worked closely on development of the $22.5 million project.
Cal Ripken Jr., a member of the Baseball Hall of Fame and chairman and founder of Ripken Baseball, cut the ribbon on the six-field complex on March 9. The first tournament was March 12-13. Ripken Baseball has a 10-year contract to manage the facility.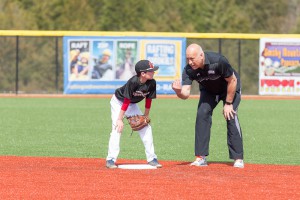 From mid-March through the third week of June, there have been 11 tournaments that drew 363 teams from 23 states. The Alaska Quakes from Anchorage traveled the greatest distance to play on the fields that offer unobstructed views of the Great Smoky Mountains.
"The 363 teams and their followers, almost 18,000 people, benefit Pigeon Forge in many ways. They stay in our hotels, they dine in our restaurants and they have fun at our attractions and theaters," Brackins said, noting that tournament scheduling gives them plenty of recreational time.
The appeal of Pigeon Forge as a family vacation destination was a major reason the city built the complex and contracted with Ripken Baseball to operate it.
"We were confident Ripken Baseball could attract teams, and we were equally confident Pigeon Forge would appeal to the players' families. We're attracting new people to Pigeon Forge and the Smokies, and we know that new visitors are almost certain to return for future vacations," said Leon Downey, executive director of the Pigeon Forge Department of Tourism.
The Southeast, the Midwest and the Mid-Atlantic produced the greatest number of teams in the first three months. There were 144 teams from Tennessee, 43 from Georgia, 37 from North Carolina and 24 from Ohio.
In addition to Alaska, other distant states that produced teams included Wisconsin, Texas and Massachusetts.
A tournament with 44 teams from 16 states and Canada in the last days of June will push the team total to more than 400.
The Ripken Experience Pigeon Forge is on a ridge above Pigeon Forge. Each field borrows its design from well-known professional ballparks, including Oriole Park at Camden Yards in Baltimore.
The others are Calfee Park in Pulaski, Va., the oldest park in the Appalachian League; Fluor Field in Greenville, S.C., known as "Little Fenway"; Engle Stadium in Chattanooga, Tenn., a filming location for the "42" movie about Jackie Robinson; BB&T Ballpark in Winston-Salem, N.C.; and Isotopes Park in Albuquerque, N.M.
The Ripken Experience Pigeon Forge will host tournaments nine months out of the year and offer year-round branded events in its 14,000-square-foot clubhouse.
Visitor information about Pigeon Forge is available online at MyPigeonForge.com and toll-free at 800-251-9100.
#
Contact:
Tom Adkinson
615-341-8796