Important, New Gallery to Open Friday, Jan. 17, 2014
PIGEON FORGE, Tenn. (December 2013) – She inspired movies, books, an opera and a Broadway musical, and on Friday, Jan. 17, 2014, the Titanic Museum Attraction in Pigeon Forge, Tenn., will add  a new dimension to the Margaret "Unsinkable Molly" Brown legacy with the opening of an exclusive new gallery dedicated to this amazing woman, according to John Joslyn, Titanic explorer and co-owner of the Titanic Museum Attraction.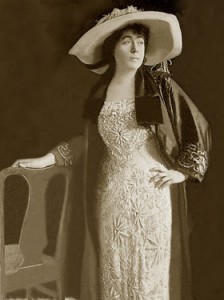 "For all that has been said, shown and written about this bigger-than-life personality, nothing can compare to what our guests will experience when they see her real story come to life through personal belongings, private papers and cherished possessions. It's the only place in the world where you can see them," Joslyn said.
"Today, Margaret Tobin Brown is just as unforgettable as she was unsinkable, 102 years ago. I think she would be pleased to know that new generations of visitors to the museum will be inspired by the adventures of that little girl from Hannibal, Mo., who overcame poverty, struck it rich with her husband in Colorado and became a legend in her own lifetime," Joslyn continued
The Titanic Museum Attraction in Pigeon Forge, Tenn., is the appointed guardian and caretaker of this valuable collection, under the auspices and direction of the legend's great-granddaughter, Helen Benziger .
Mrs. Benziger is scheduled to make a rare, two-day appearance at the museum attraction on Valentine's Day weekend, Feb. 14-15 (Friday-Saturday). All museum attraction visitors will have a chance to meet her and hear her separate fact from fiction in the life of her famed ancestor.
#
Titanic Museum Attraction:  Cedar Bay Entertainment, LLC owns and operates the Titanic Museum Attractions in Branson, Missouri, and Pigeon Forge, Tennessee.  A privately owned-and-operated entertainment and development company, Cedar Bay is headquartered in Branson, Missouri, the site of its first Titanic Museum Attraction. Since its opening in 2006, Titanic Branson has welcomed more than 5.5 million "passengers" aboard the museum. Titanic Pigeon Forge opened in 2010 and has already welcomed 2.5 million visitors. Named Winner of the 2012 TripAdvisor Certificate of Excellence, "The Titanic Museum is not to be missed" declares USA Today. For additional information about the museums visit www.titanicattraction.com  or call (800) 381-7670
Contact:  Mary Kellogg
Phone:     800-381-7670
Email:     [email protected]
Titanic Pigeon Forge website:  www.titanicpigeonforge.com
Media photos:  www.titanicpigeonforge.com/media