Louise Mandrell to lead 'Parade They Never Got' in August
PIGEON FORGE, Tenn. (May 1, 2014) – Four days in August have been set aside in this Great Smoky Mountains resort community for special recognitions of America's veterans.
Dates are Aug. 21-24, and activities include salutes at various theaters, display of a half-scale replica of the Vietnam Veterans Memorial and a full-fledged parade along the Parkway.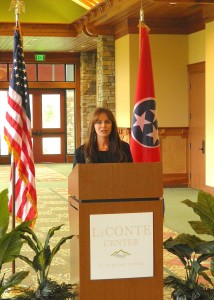 Entertainer Louise Mandrell will be the grand marshal of the Celebrate Freedom Welcome Home Vietnam Parade on Aug. 23.
"This has been nicknamed 'the parade they never got,' and I want all veterans to realize how much their country appreciates their service," said Mandrell, who has entertained service members throughout her career.
Mandrell recognized active and former service members during every performance of her show when she had her own theater in Pigeon Forge from 1997-2005.
The parade is for veterans of all eras, not just Vietnam. Leaders of veterans' groups interested in participating are invited to contact the Pigeon Forge Tourism Department's special events office (865-429-7350).
The Vietnam Veterans Memorial replica will be on display indoors at the Smoky Mountain Convention Center as part of the Smoky Mountain Military and Relic Show on Aug. 23-24. The display is a project of the American Veterans Traveling Tribute, a nationwide undertaking, and its visit to Pigeon Forge is sponsored by Collier Restaurant Group, Smoky Mountain Resorts and the Titanic Museum Attraction.
"An additional way for veterans' families to honor their veterans is to nominate someone for recognition at the military and relic show. Nominating someone is as simple as going online to NominateYourVeteran.com," said Pete Smith, show organizer.
Three theaters have planned special August entertainment:
The Smoky Mountain Opry will present its "Salute to Patriots" on Aug. 21.
The Grand Majestic Theater is organizing "Radio Saigon," a dinner and presentation of Vietnam-era music, on Aug. 22.
Dolly Parton's Dixie Stampede will present a special show on Aug. 23.
The Blackwoods are organizing a "Sunday Morning Remembrance" on Aug. 24 at the Smoky Mountain Opry.
The Titanic Museum Attraction will provide complimentary admission to veterans and active duty military Aug. 21-24.
US Tours has packaged the various elements of the four-day event. Tour information is available at WelcomeHomeVietnam.com.
"For years, Pigeon Forge has saluted veterans and first responders with Celebrate Freedom, which offers discounts across the city throughout August. The parade, the special shows and the other activities Aug. 21-24 add to that salute," said Leon Downey, executive director of the Pigeon Forge Department of Tourism.
Information about all aspects of visiting Pigeon Forge is available at MyPigeonForge.com and 800-251-9100.
Contact:
Tom Adkinson, APR
615-341-8796