PIGEON FORGE, Tenn. (January 2016) – Baseballs, a violin and a speeding roller coaster top the list of what's new in Pigeon Forge for 2016. The little city with only 6,000 residents is ready to show some Great Smoky Mountain hospitality to millions of guests.
Ripken Experience Pigeon Forge – Listen for the crack of the bat and the snap of horsehide hitting leather when the $22.5 million Ripken Experience Pigeon Forge opens on March 9.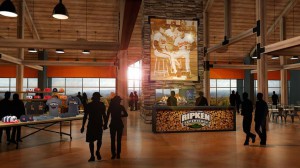 This six-stadium youth baseball complex will be a tournament destination for elite teams nine months of the year. Each field borrows its design from well-known professional ballparks, including Oriole Park at Camden Yards in Baltimore.
Former Major League Baseball players Cal Ripken Jr. and Bill Ripken are behind the company that will draw thousands of young players to a site that offers spectacular views of the Great Smoky Mountains.
Lightning Rod at Dollywood – The Dollywood theme park will add another superlative attraction this spring. It's Lightning Rod, the world's fastest wooden roller coaster and the world's first launching wooden roller coaster. The thrilling $22 million ride is the largest attraction investment in the park's history.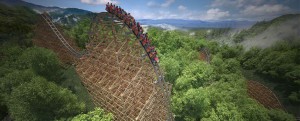 Themed after a tricked out 1950s-era hot rod, Lightning Rod launches riders from zero to 45 mph to a point 20 stories high. Lightning Rod races down a 165-foot drop and propels guests along its 3,800-foot-long track to a top speed of 73 mph, the fastest speed for a wooden coaster in the world.
Lighting Rod joins other Dollywood thrill rides such as Wild Eagle, the country's first wing coaster; FireChaser Express, the nation's first dual-launch family coaster; and Thunderhead, a wooden coaster consistently ranked one of the world's top five wooden coasters. At the adjacent Dollywood's Splash Country water park, RiverRush stands as Tennessee's first and only water coaster.
Wallace Hartley Violin – When the RMS Titanic sank into the frigid North Atlantic, a legend was born about the ship's bandleader, Wallace Hartley. His cherished violin was found strapped to his body after the sinking and was returned to his fiancée, only to be lost to the world for almost a century. It sold at auction in 2013 for $1.7 million.
Pigeon Forge visitors can see the Hartley violin in a special exhibition at the Titanic Museum Attraction from June 5-Aug. 14. Every day, there will be special early-morning admission for a limited number of Titanic enthusiasts to view the violin and shoot heirloom photos.
RetroRunning All Around Town – There's a special running event April 29-31 exclusively for people age 40 and older. The LeConte Center at Pigeon Forge will host RetroRunning, a one-of-a-kind race because it's the odd length of 5 miles, 916 yards. As race organizers note, everyone who runs will set a personal best for that distance.
The weekend will include programs from Jeff Galloway, the nation's leading running coach and columnist for Runner's World, and Rudy Maxa, travel journalist and the voice of National Geographic Traveler's "Walks of a Lifetime" podcast.
New Hotels – Pigeon Forge's amazing inventory of more than 14,000 lodging units will grow in 2016 with the opening of a 137-room Courtyard by Marriott property, a 112-room Hilton Garden Inn and the 178-room Black Fox Lodge.
Information about all aspects of visiting Pigeon Forge is available online at MyPigeonForge.com or by calling 800-251-9100.
 #
Contact:
Tom Adkinson, APR
615-341-8796