PIGEON FORGE, Tennessee (May 2015) – WonderWorks has opened its newest forensic science exhibit. This interactive exhibit will allow guests to experience the real work of a forensic scientist in the following three areas: fingerprint identification, 3D facial reconstruction and facial recognition. WonderWorks prides itself on providing interactive fun, with a large focus on science education.  
"We have never been more excited about an exhibit," said WonderWorks' Chief Operating Officer Janine Vaccarello. "The new forensic science section of WonderWorks will be in addition to the variety of other science-related exhibits that we already offer. We are working to keep bringing in more and more unique and exciting science-related interactives for families, schools and visitors to enjoy!"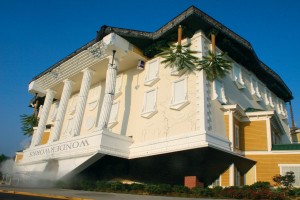 Forensic science has grown in popularity in both the entertainment industry and in all levels of the education system. The nearby Body Farm at the University of Tennessee has sparked further interest for local residents.
Dr. Dawnie Steadman, director of the Forensic Anthropology Center at the University of Tennessee, spoke on her enthusiasm for the exhibit.
"The key to forensic science is practical experience, and we are thrilled to have WonderWorks encouraging their guests to take an interest with this new exhibit," Steadman said. "It will provide burgeoning forensic scientists of all ages the perfect opportunity to get hands-on experience to make the intricate aspects of forensic science more accessible."
The exhibit was made possible by working with experts and professionals from the National Center of Missing & Exploited Children, the National Museum of Crime & Punishment, 3DSystems, and FaceCheck. With its latest forensic science addition, WonderWorks aims to continue providing quality activities while educating families and students alike.
To learn more about WonderWorks, visit www.wonderworkstn.com.
About WonderWorks 
WonderWorks, a science-focused indoor amusement park, combines education and entertainment. With over 100 hands-on exhibits – there is something unique and challenging for all ages. Adventures include: The Hurricane Shack, feel the power of 71-mph hurricane–force winds, The Bubble Lab, make huge, life–sized bubbles, The Astronaut Training Gyro get the NASA treatment and experience zero gravity, Nail it by lying on the death–defying Bed of Nails. WonderWorks is also home to Wonders of Magic, starring Terry Evanswood, the award-winning and longest running performer in Pigeon Forge. WonderWorks hosts birthday parties and special events seasonally. Open daily from 9 a.m. until 10 p.m.
#
Media Contact:
Cher Murphy
571-263-2128