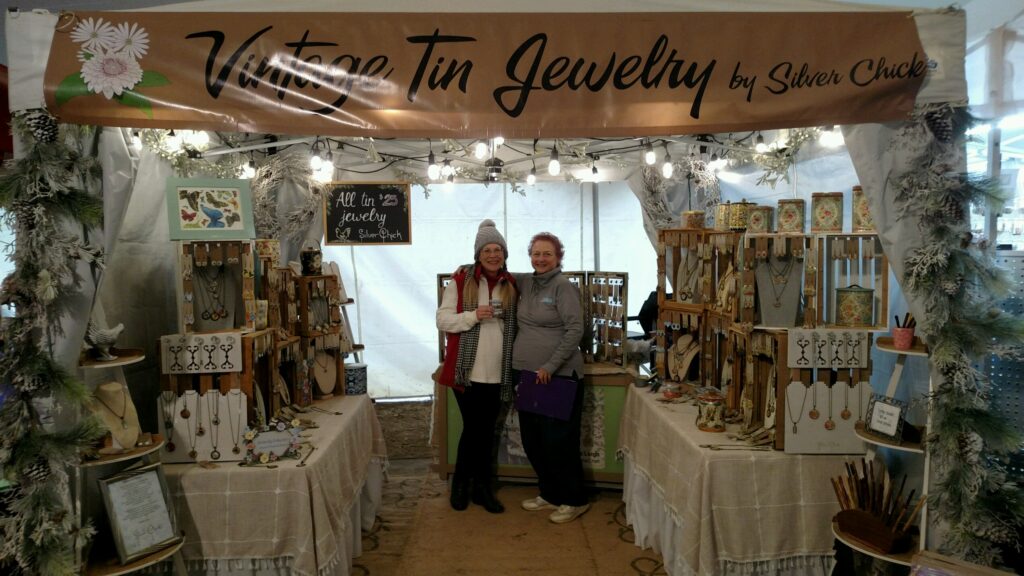 PIGEON FORGE, Tennessee—(Dec. 12, 2022)—Somerville resident and crafter Sandra Dickerson (photograph available for download here) claimed the top prize for best booth décor at Pigeon Forge's first-time Wonders of Winterfest Christmas Village craft show.
Dickerson's Silver Chick Tin Jewelry Design took top honors for its festive contribution to the all-new craft show that helped kickoff Pigeon Forge's annual Winterfest celebration.
Dickerson was one of more than 35 artisans from across the Southeast who gathered for three weekends in November to showcase a variety of seasonal and gift items. The vendors competed for bragging rights in the category of best booth décor.
Since launching in 2019, Silver Chick has quickly grown from a post-retirement hobby for Dickerson to a thriving small business. Dickerson participates in a dozen shows annually in and around her home state of Alabama. Silver Chick's most popular item is vintage tin jewelry, having sold more than 3,000 pieces.
"This was our first time to attend a Christmas-themed show, and I was a little intimidated about creating something that would even come close to the Christmas spirit of Pigeon Forge," Dickerson said. "I was shocked and humbly honored with the first-place announcement—and the two tickets to Dollywood!"
"Pigeon Forge's first Wonders of Winterfest Christmas Village craft show was a huge success," said Pigeon Forge Special Events Manager Jon Elder. "Our success is directly attributed to the talents and enthusiasm of vendors like Sandra who made the event come to life."
Pigeon Forge's Winterfest celebration continues through Dec. 19 and features more than six million holiday lights. New in 2023 is the Wonder of Lights Walking Trail, a walk-through outdoor light experience featuring 20 new animated nature-inspired displays along the city's Riverwalk.
Winterfest guests meander through 25-foot-tall arches and alongside displays that create a colorful 52-foot-long-caterpillar, larger-than-life wildflowers, and even Old Man Winter. Vibrant snowflakes, bright stars, snow people, and a 20-foot-tall ice fountain light the way as deer, bears and squirrels—ranging in size from 13 to 19 feet tall—frolic alongside the paved path while lights that mimic fireflies and butterflies dance in the trees overhead, creating one of winter's most incredible experiences.
More information about Winterfest is available at MyPigeonForge.com.
–MyPigeonForge2022—