PIGEON FORGE, Tennessee (Jan. 23, 2023)—Pigeon Forge Snow, the first year-round indoor snow park in the U.S., was recently awarded a Best of the Best designation from the American Bus Association's Destinations magazine.
Pigeon Forge Snow was chosen out of nearly 80 entries and was one of only six chosen in the entertainment category. Other categories include adventure, culture, festivals and events, food and beverage, and shopping.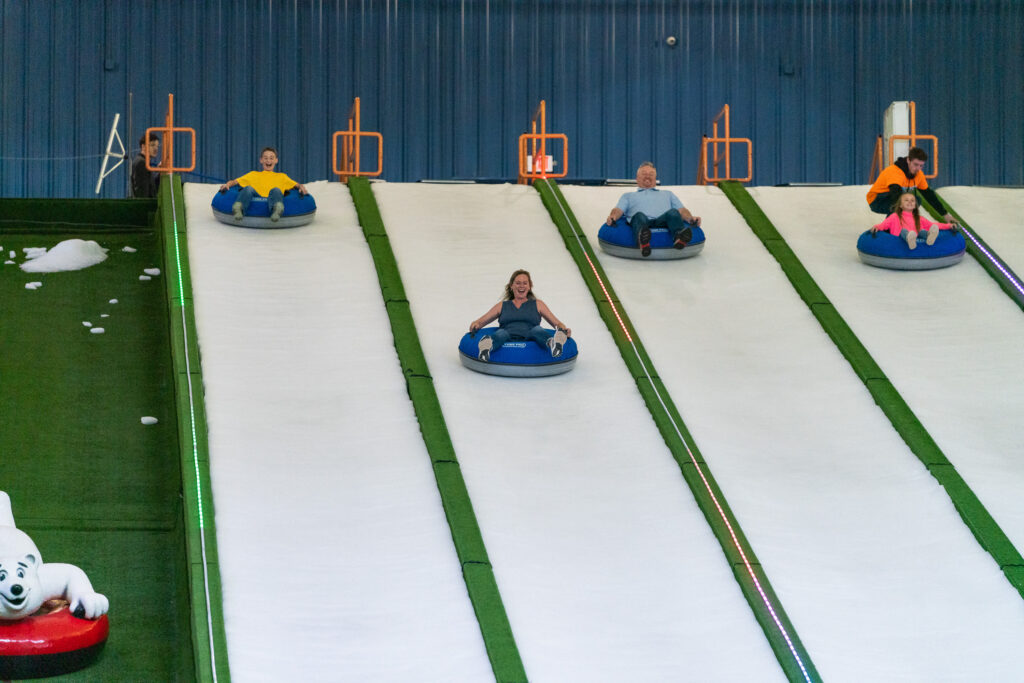 Best of the Best entertainment at Pigeon Forge Snow was recently recognized by the American Bus Association's Destinations magazine. Photo credit: Pigeon Forge Dept. of Tourism
"This much appreciated recognition from Destinations magazine's Best of the Best underscores our commitment to provide an entertaining year-round attraction that appeals to Pigeon Forge visitors, especially the group travel industry," said Matthew Ayers, Pigeon Forge Snow owner. "We're pleased to invite visitors of all ages to experience the country's first indoor snow park, right here in the Great Smoky Mountains."
Destinations magazine's Best of the Best honors outstanding travel industry members who go above and beyond for the group tour industry. Best of the Best honorees have the support of their peers and customers and are known for excellent service.
"Travel is back, and the competition to attract groups to come to you has never been fiercer," said Peter Pantuso, ABA president and CEO. "Each destination and attraction named this year's Best of the Best showcases what it takes to stand out from the crowd in terms of their customer service, hospitality and offerings that will please customers every time. Congratulations to all who have stood out from the biggest competition for the Best of the Best since its inception. It is well deserved."
Pigeon Forge Snow opened in 2018 and features real snow that never melts. Operating year round, the facility maintains a 60- to 70-degree climate, perfect for guests to enjoy seven lanes of hillside snow tubing as well as a huge snow play area. The facility operates 365 days a year. Observation areas are available as well as concessions.
–PigeonForgeSnow2023–
About the American Bus Association: ABA is the trade organization of the intercity bus industry, with more than 1,000 motorcoach and tour company members in the U.S. and Canada. Its members operate charter, tour, regular route, airport express, special operations and contract services. Another 2,800 members are travel and tourism organizations and suppliers of bus products and services who work in partnership with the North American motorcoach industry. For more information, visit www.buses.org.
About Pigeon Forge Snow: The indoor snow facility offers real snow, seven indoor snow tubing lanes, and snow play areas in a 35,000-square-foot facility that operates year-round in Pigeon Forge, Tennessee, in the foothills of the Great Smoky Mountains. More information about Pigeon Forge Snow available at www.PigeonForgeSnow.com.